Big Discounts With up to 90% off!
BALTIMORE, MD - September 24th, 2019 - Versus Evil, one of the leading independent video game publishers, today announced a range of huge discounts across its entire catalogue in its 6th Anniversary Steam sale.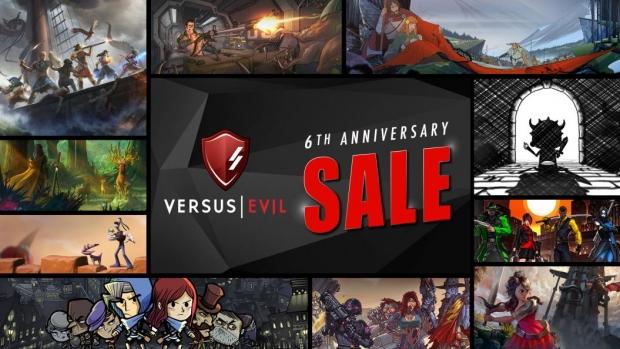 Gamers can take advantage of some killer savings across a wide variety of titles including 60% off the critically acclaimed Pillars of Eternity II: Deadfire Obsidian Edition.The Deluxe and Standard Editions of Pillars of Eternity II: Deadfire are also on offer with discounts of 55% and 50% respectively. The Beast of Winter, one of three DLC packs available in the Steam Summer sale for Pillars of Eternity II:Deadfire are each discounted with 40% off too.
Add to that the stunning Viking RPG, Banner Saga trilogy with 80% discounts across Banner Saga and Banner Saga 2, and 50% discounts for Banner Saga 3 including the Legendary Edition and Deluxe Edition.
Card based strategy game Faeria is a deal with 60% off the main game and 40% off its expansion packs including Chronicles of Gagana.
Other discounts include 67% off hilarious turn based dungeon crawler Guild of Dungeoneering not to mention some great savings on its DLC packs Ice Cream Headaches and Pirates Cove.
BAFTA winning party game At Sundown:Shots in the Dark is a bargain at 50% off its RRP and a great addition to anyone's Steam library.
Fast paced digital board game Antihero is also included in the sale with 67% off and its Book Club and Armello characters packs are also a steal at 50% off. Skyshine's Bedlam can be had for a big saving of 75% off and space junk strategy game Habitat offers up a stellar 90% off.