Coming to PlayStation 4 and Xbox One in December
Seattle, Washington - September 5th, 2019 - Unbound Creations' unapologetically politically charged potboiler and news editor sim Headliner: NoviNews launches today on Nintendo Switch, with PlayStation 4 and Xbox One versions to follow in December through publisher Chorus Worldwide.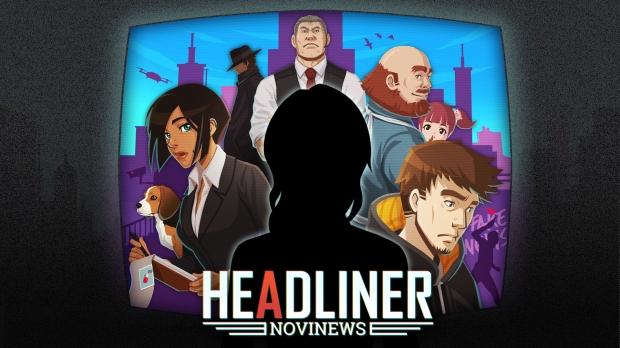 Cast in the role of a "Headliner", you operate as the chief editor of the country's largest news publication. Acting as the voice of the publication, you must decide what stories to run, meet your quotas, keep your audience engaged, and make enough money to keep food in the dog bowl. Controversy equals clicks, and with the world in conflict, it's up to you to cultivate the country's culture through the court of public opinion.
Beyond making executive decisions behind your desk, Headliner: NoviNews also lets you walk the streets as your custom made avatar observes how the stories you ran influenced the public. Which politicians will they support? Will a riot break out? How will you report on said riot? With geopolitical tensions at an all-time high, it's never an easy decision being the Headliner!
"Now, more than ever, it is important to question the media that we are exposed to. The Nintendo Switch is great platform to house a serious political game exploring the consequences of the stories that are deemed newsworthy in our society," said Unbound Creations founder and director Jakub Kasztalski. "I'm excited for players to be able to investigate these themes for themselves."
Headliner: NoviNews is an official nominee for IndieCade 2019, recently won "Games for Good" silver award at Serious Play Conference 2019, the "Best Overall Game" of Intel Buzz Seattle, 2018, was a finalist for Best Action & Adventure Game at the 2018 TIGA Awards, and it was part of the Official Selection at PAX West 2018's Indie Megabooth and the same year's Seattle Indies Expo.
"Shows quite neatly how all these issues have a lot of overlap that defies the easy answer of just picking a 'side'" - Rock, Paper, Shotgun
"A fascinating concept, and worthy of a look." - PC Gamer
"It's kind of perfect." - Philip DeFranco
"Fake news!" - Donald Trump**
Interview opportunities are available with the game's creator - Jakub "Koobazaur" Kasztalski, a Polish expat who majored in "comparative ethnic conflict" before travelling the world to places like Japan, Italy, and Ireland, studying regional conflicts. Kasztalski would be more than happy to discuss the game, its mechanics, and how his background in studying ethnic conflict and media has informed his decisions in the making of Headliner: NoviNews.
**Actually fake news. Donald Trump hasn't played this game. It hasn't been on Fox and Friends. But maybe, with your help, it could be!