SEPTEMBER 3, 2019 - New Mode Offers Five-Minute Games for Solo and Squads to Set Superstar Strategy, Draft Elite NFL Stars and Steal Their Opponents' Best Players
EA SPORTS Welcomes All to Play Madden NFL 20 During Global Free Play Weekend, and to Join the Twitch Prime Crown Cup This Weekend
REDWOOD CITY, Calif.--(BUSINESS WIRE)-- Fans of America's most popular sport will discover a brand-new way to play EA SPORTS Madden NFL 20today with the surprise release of Superstar KO* mode, a fun and fast way to play Madden NFL 20 and the perfect companion to the start of the NFL regular season. The Superstar KO beta live service lets players hop in solo or squad up with friends, set their superstar strategy, draft elite NFL stars and conquer opponents to steal their best players. Offering five-minute games and Ultimate Team rewards, Superstar KO is the perfect way to get a quick, rewarding football fix, even during halftime of the big game.
Players eager to try out the new mode for themselves can play the full game for free starting Thursday, September 5 and continuing through Monday, September 9.** After the free trial ends Superstar KO will remain available for free for all Madden NFL 20 owners with Xbox Live Gold and/or PlayStation Plus.
September 5 also marks the start of the Twitch Prime Crown Cup featuring Madden NFL 20 at Grant Park in Chicago. Fans attending the NFL Kickoff festivities in Chicago can stop by to watch NFL greats, music superstars Lil Yachty and Juice Wrld and top Twitch streamers compete.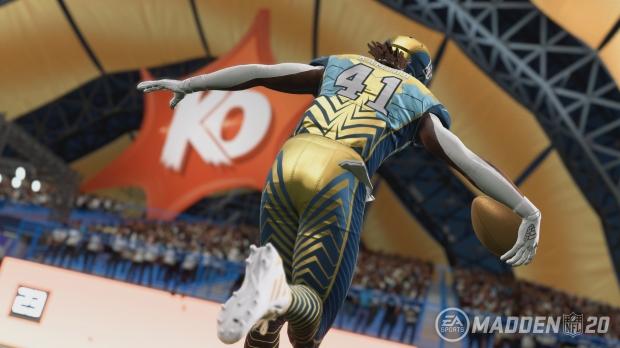 The athletes, musicians and streamers will also team up with a few lucky fans to see who can reign as the gridiron champions. Attendees will also have the chance to play the new Superstar KO mode with NFL legends Ahman Green and Devin Hester before the tournament gets underway.
Those watching online at twitch.tv/twitchprime can also enjoy the fun by claiming Madden Ultimate Team in-game items and exclusive Twitch Emotes as the tournament unfolds. Twitch Prime offers tremendous value for gamers all year long, including in-game content for some of the world's most popular games, plus free games each month, a monthly Twitch channel subscription, and more.
Madden NFL 20 also continues to be popular with fans, with total games played up more than 27% over the same period last year. The game has also provided a prediction for how this year's NFL season might play out, based on how fans have played in the first month. The Cowboys reign as the most popular team in the NFL, but the Cleveland Browns come in a surprising second, showing a lot of fan excitement for the coming year. Check out the full breakdown for projected division winners, top performers and more.
With a brand-new mode, a Free Play Weekend and a star-studded Twitch Prime competition there's never been a better time to jump into Madden NFL 20, just in time for the start of the NFL season.
Madden NFL 20 is developed in Orlando, Florida by EA Tiburon and is available now for Xbox One, PlayStation 4 and Origin for PC.