Trisha Yearwood's Avatar and Song Coming Soon to Farmville 2: Country Escape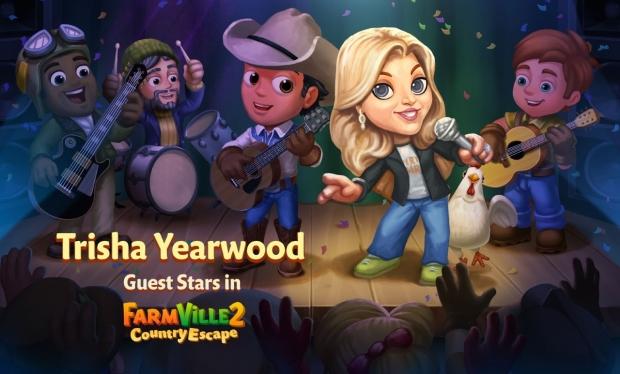 SAN FRANCISCO - August 29, 2019 - Today, Zynga Inc. (Nasdaq: ZNGA), a global leader in interactive entertainment, announced that country music icon Trisha Yearwood will be featured as a welcoming farmhand avatar in Farmville 2: Country Escape along with her new single, "Every Girl in This Town," starting on September 9. The special appearance celebrates the company's 10 year anniversary of its FarmVille franchise and Ms. Yearwood's highly anticipated new album, 'Every Girl,' available tomorrow.
Ms. Yearwood will provide fans an exclusive sneak peek of her in-game avatar during her #EveryGirlRoadTrip, which kicks off tomorrow. Ms. Yearwood goes back to her Georgia roots to retrace the path she took to Music City to follow her dreams before she became a country superstar. The special tour kicks off in her hometown of Monticello, GA on Friday night, followed by stops in Georgia and Tennessee. Her final destination will be the Country Music Hall of Fame and Museum in Nashville on Sunday- where she was once a tour guide. Ms. Yearwood's avatar will be making special appearances throughout the road trip.
"Seeing what my avatar looks like in FarmVille 2: Country Escape brings back fond memories of my country roots," says Trisha Yearwood. "Just as this album reminds people that it's OK to be whoever you are, FarmVille offers a similar experience and lets you customize and build your farm just how you'd like."
"We're delighted to have Trisha Yearwood celebrate FarmVille's momentous anniversary and share her music in FarmVille 2: Country Escape," said Bernard Kim, President of Publishing, Zynga. "Farmville is one of the most beloved game franchises in the world and we look forward to finding new ways to surprise and delight players, especially with the new FarmVille mobile title we're developing."
Ms. Yearwood's avatar and single will be featured for a limited time in FarmVille 2: Country Escape September 9-October 9, 2019.