August 29, 2019, Taipei - TEAMGROUP releases new T-FORCE gaming products gamers around the world have long been waiting for, which included the industry's first T-FORCE DELTA MAX RGB Solid State Drive and T-FORCE's latest gaming memory DARK Z. T-FORCE DELTA MAX RGB Solid State Drive uses its magnificent RGB mirror design to offer the largest visual proportion of the lighting effects. The magnificent mirror surface displays a transparent effect like a magic mirror, which is the first in the industry. The all-new T-FORCE DARK Z DDR4 Gaming Memory is designed with armor for complete protection and enhanced heat dissipation. Using only selected IC chips, these two new products can offer high performance, low power consumption, easy upgrade and completely satisfy the needs of the gaming market.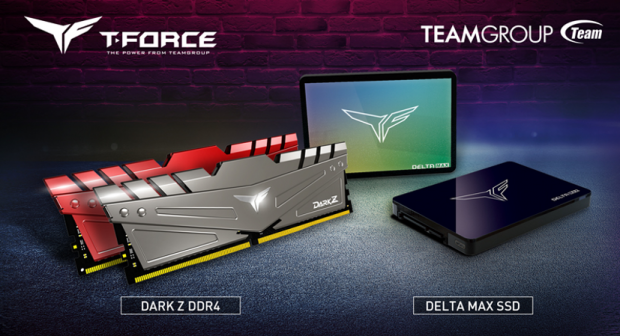 The latest generation of T-FORCE DELTA MAX RGB Solid State Drive has an innovative full mirror design which is a design breakthrough of the traditional solid state drive. It offers the largest proportion of luminous area in the industry and the largest area of color lighting effects. The densely arranged ARGB LED lighting effect design can offer a colorful light feast. The minimalist design mirror can present a magic mirror like reflection effect when the lighting is off. The advanced 3D NAND delivers up to 560 MB/s in read speed and 510MB/s in write speed. It also supports motherboards with 5V 3pin ARGB Addressable LED header. T-FORCE DELTA MAX RGB Solid State Drive's lighting modes and effects can be customized via software of each brand's motherboard to light up consumers' storage devices. Maximum 2TB of capacity is the most magnificent storage expansion you can get and the mirror design is creating a trend in the tech world. Currently applying for exclusive patents in three regions, including Taiwan/China/USA.
T-FORCE DARK Z DDR4 gaming memory is designed based on the concept of an armored knight. The sacred war robe is carefully crafted for offering complete protection. The simple yet brilliant line design of the body refines the heat sink which made by traditional punch press process. Electrolytic anodizing process and metal electroforming logo design are used to echo with T-FORCE's energetic speed force. The heat spreader is formed by a punch press process with a 0.8mm thick, one-piece alloy aluminum to reinforce the body structure. In addition, coloring with the electrolytic anodizing process can enhance corrosion resistance and make it non-conductive. The heat dissipation can be effectively performed and offering the finest and smoothest gaming experience and an extreme performance without any lag. T-FORCE DARK Z uses selected high-quality IC chips and the highest frequency can reach up to DDR4 3600MHz. It can completely satisfy gamers' needs for high performance, low power consumption and easy upgrade.

MSRP
Delta Max SSD 250GB $59.99

Delta Max SSD 500GB $89.99

Delta Max SSD 1TB $149.99

DARK Z 2666 8G*2 $85.99

DARK Z 3000 8G*2 $79.99

DARK Z 3200 8G*2 $77.99
Last updated: Sep 1, 2019 at 12:19 am CDT