Computer peripherals brand introduces its first portable IPS monitors starting under $200 in both touch and non-touch versions.
SOUTH BEND, IN (August 15, 2019) - Viotek, a brand at the forefront of performance and value in gaming peripherals and other consumer electronics, today introduces its first portable IPS monitor in both touch and non-touch versions. Prices starting under $200 making them the most affordable portable monitors on the market.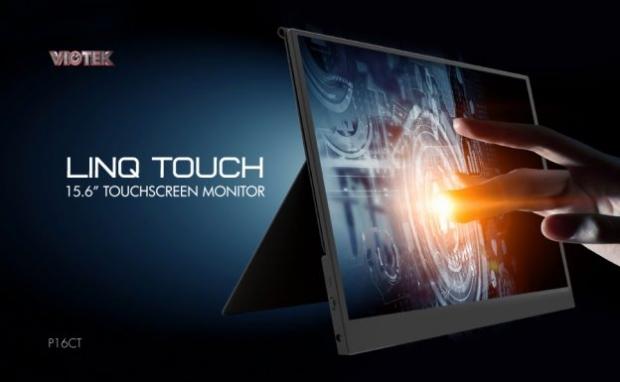 The LinQ and LinQ Touch are Viotek's smallest monitors to date, packing a brilliant 1080p 15.6-inch display with a 178-degree viewing angle into an ultra-thin (0.36-inch thick), lightweight (1.35 and 1.7 pounds respectively) body. Both the LinQ and LinQ Touch offer an IPS panel with a 60hz refresh rate and support AMD FreeSync. Brightness is adjustable up to 250 nits.
"We designed the LinQ with a simple goal in mind," says VP Brett Barbour. "To combine productivity and portability in an easy-to-use, elegant form factor."
The LinQ and LinQ Touch feature two USB-C ports as well as HDMI and 3.5mm audio out, offering more connection options than other portable monitors. Both are wrapped in a magnetic leather case that doubles as an adjustable stand offering multiple configurations and viewing angles.
The LinQ Touch features a 10-point precision capacitive touchscreen and a beautifully crafted metal and glass body with a mirror finish.
Engineered for today's on-the-go- lifestyles, the LinQ and LinQ Touch are travel friendly, making it possible to turn any laptop, tablet or even smartphone into a dual-screen setup. Perfect when traveling for business, or even casual gaming and movies. Increase screen real-estate when giving presentations, collaborating or coding. They can also serve as an external viewfinder for photographers.
Like all Viotek monitors, the LinQ and LinQ Touch are backed by a 1-year limited warranty and Viotek's best-in-market Pixel Perfect Promise.
The LinQ and LinQ Touch are on sale for introductory prices of $169.99 ($190 MSRP) and $229.99 ($250 MSRP) respectively and are available now through Viotek.com, Amazon and select retailers.
FEATURES, SPECS + PRICING
15.6-inch IPS panel @ 60hz

1920 x 1080 resolution

AMD FreeSync

10-point capacitive touchscreen* (LinQ Touch only)

Multiple Connections: Two USB-C, HDMI, headphone (use and power it from almost any device)

Magnetic folding cover/stand for multiple configurations

178-degree viewing angle

Metal body with mirror finish

Ultra-Thin: 0.36 inches

Ultra-Light: 1.7 pounds (LinQ Touch) / 1.35 pounds (LinQ)

250 NIT brightness

Built-in speakers

LinQ MSRP: $189.99 / LinQ Touch: $249.99

Available at Viotek.com, on Amazon and through select retailers
Last updated: Aug 20, 2019 at 12:14 am CDT