SAN FRANCISCO, Calif., August 8, 2019 -TYAN - an industry-leading server platform design manufacturer and a MiTAC Computing Technology Corporation subsidiary, is offering 2nd Gen AMD EPYC
Processor-based server platforms to deliver a new level of performance to power the modern datacenter.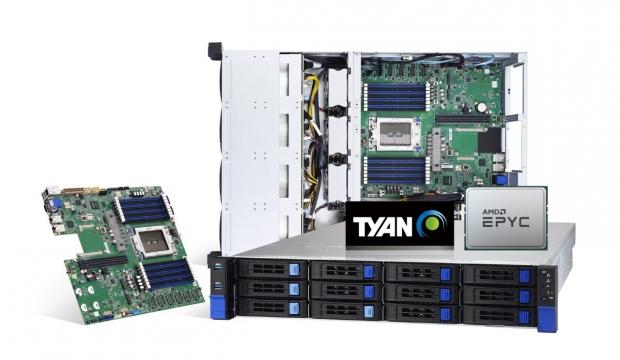 TYAN's first-wave offerings include a 2U single-socket Transport SX TS65-B8036 server and the single-socket Tomcat SX S8036 server motherboard. Powered by AMD EPYC 7002 Series Processors, both platforms boost performance for the modern datacenter by leveraging PCIe 4.0 and increased memory speed. The TS65-S8036 supports 16 DDR4-3200 DIMM slots, 12 front-access hot-swap 3.5" and 2 rear-access hot-swap 2.5" drives. The 12 front bays are pre-configured to support up to 4 NVMe U.2 drives. The S8036 motherboard offers expansion and storage advantages with 2 NVMe M.2 ports, and up to 12 PCIe 4.0 NVMe and 20 SATA ports in an EATX form factor.
"Featuring high memory bandwidth and high-bandwidth I/O, TYAN's 2nd Gen AMD EPYC Processor based-platforms are designed to address the most demanding workloads of our datacenter customers", said Danny Hsu, Vice President of MiTAC Computing Technology Corporation's TYAN Business Unit. "Combining all the advantages of AMD EPYC processors allows customers to transform their infrastructure with the right resources to drive performance and reduce bottlenecks."
"We're excited and thankful to have our partners supporting the launch of AMD EPYC 7002 Series Processors," said Scott Aylor, corporate vice president and general manager, Datacenter Solutions Group, AMD. "Their EPYC based solutions are poised to deliver a new standard for modern datacenter customers. With twice the cores, breakthrough performance and embedded security features, all delivered by a leadership architecture, customers can transform their datacenter operations at the pace of their business."
In addition, TYAN offers drop-in support for AMD EPYC 7002 Series processors on existing platforms through BIOS updates. Customers can enjoy all-new "Zen 2" CPU architecture with up to 64 cores from their current AMD EPYC processor-based platforms.
TYAN's AMD EPYC 7002 Series Processor-based platforms:
Tomcat SX S8036: single-socket AMD EPYC 7002 Series Processor-based server motherboard in EATX (12" x 13") form factor with support for 16 DDR4-3200 DIMM slots, 8 PCIe x8 SlimSAS connectors, 2 NVMe M.3, 2 PCIe x24 slots, and up to 12 PCIe 4.0 NVMe and 20 SATA ports for CSP application deployment
Transport SX TS65-B8036: 2U single-socket AMD EPYC 7002 Series Processor-based storage platform with support for up to 16 DDR4-3200 DIMM slots, 6 PCIe x8 slots, 2 NVMe M.3 ports for boot drives, 12 front-access 3.5" and 2 rear-access 2.5" hot-swap tool-less drive trays. The 12 front bays are pre-configured to support up to 4 NVMe U.2 drives