Pohlheim, 25 July 2019 - Sharkoon Technologies is an international supplier of PC components and peripherals, offering performance at a reasonable price. Sharkoon now presents its new monitor stands, which are available in two versions: the PURE and the POWER. At first glance, both versions appear the same. A closer look, however, reveals their differences in features: The PURE version creates extra storage space available under the monitor, while, in addition to this, the POWER version also offers a USB hub and a wireless charging station.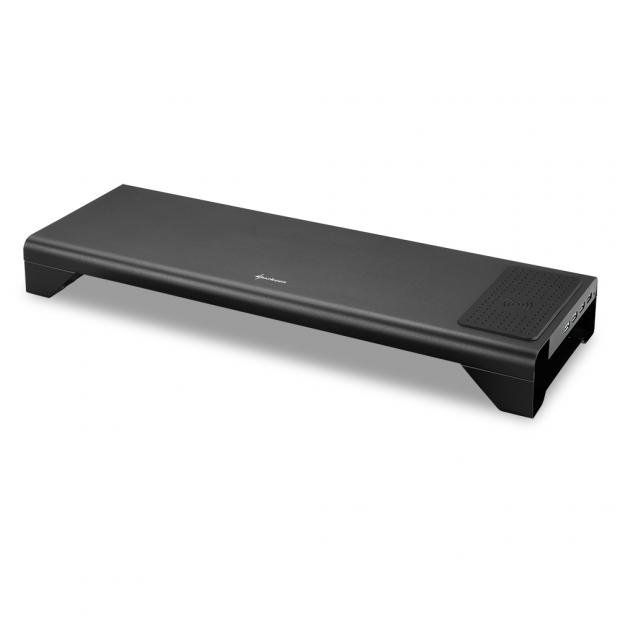 More Space on the Desk
Both the Monitor Stand PURE and the Monitor Stand POWER support an ergonomic sitting position by raising the screen. In addition, the monitor stands provide extra storage room on top of the desk. Thus, underneath the raised monitor, peripherals will find newly gained space measuring 440 x 190 x 46 millimeters, where keyboards can also find a home.
Wireless Charging with the Monitor Stand POWER
With the Monitor Stand POWER, compatible devices can be conveniently and easily charged using the integrated wireless charging station. This is a contact surface on the top, right-hand side of the monitor stand, where the device is simply placed for charging. The device could be a wireless mouse (like the Sharkoon SKILLER SGM3) or a smartphone, for example. The charging occurs with an output power of five watts maximum.
Steady and Stable Screen Raiser
For a firm and steady hold, both versions of the monitor stand have been made of steel with a thickness of 1.3 millimeters and can therefore support larger devices with a weight of up to 20 kilograms without difficulty. In addition, the nonslip feet on the underside contribute to the overall stability of the monitor stands.
Connections Always within Reach: Monitor Stand POWER
In contrast to the Monitor Stand PURE, up to four USB devices or four flash drives can be plugged into the Monitor Stand POWER for operation. A 100-centimeter-long cable connects the integrated USB hub to a USB 3.0 port on the PC. Having to inconveniently search for available ports on the host computer thus becomes unnecessary.
Price and Availability
Both the Sharkoon Monitor Stand PURE and the POWER are now available. The suggested manufacturer's price in Europe for the PURE version is 19.99 euros and for the POWER version, 44.99 euros.
Sharkoon Monitor Stand POWER
HD photos:
http://sharkoon.com/product/MSPower#gallery
http://sharkoon.com/Download/Gaming/Keyboards_Z/Monitor_Stand_POWER/gallery_Monitor_Stand_POWER.zip
Premium content: http://sharkoon.com/Download/Gaming/Keyboards_Z/Monitor_Stand_POWER/prem_Monitor_Stand_POWER_en_01%20.pdf
Video:
Additional info: http://sharkoon.com/product/MSPower
Sharkoon Monitor Stand PURE
HD photos:
http://sharkoon.com/product/MSPure#gallery
http://sharkoon.com/Download/Gaming/Keyboards_Z/Monitor_Stand_PURE/gallery_Monitor_Stand_PURE.zip
Premium content: http://sharkoon.com/Download/Gaming/Keyboards_Z/Monitor_Stand_PURE/prem_Monitor_Stand_PURE_en_01.pdf
Video:
Additional info: http://sharkoon.com/product/MSPure
Last updated: Sep 25, 2019 at 05:39 pm CDT