July 23, 2019, Taipei, Taiwan - BIOSTAR, a leading manufacturer of motherboards, graphics cards, and storage devices, announces the latest H310 series motherboard supporting the newest 9th and 8th Generation Intel Core, Pentium and Celeron Processors in a compact Micro-ATX form factor, the BIOSTAR H310MHP. From casual office tasks to a complete home entertainment center, the new H310MHP is the little motherboard that can.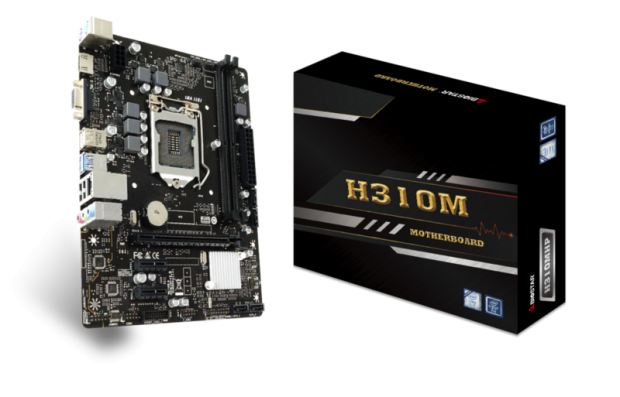 Designed for office workers and home users who do not need all the flashiness of a flagship product, but want to get things done, the Micro-ATX H310MHP is the motherboard of choice that fits into most PC cases without compromising on connectivity and quality. With support for up to 32GB of DDR4 memory at 2666MHz, GbE LAN, HDMI for 4K resolution, the BIOSTAR H310MHP sports 6 USB ports to let you connect multiple devices without the need of an expansion card, and allows you to browse the web, run office applications, enjoy online high definition content and play games without having to worry about performance or quality. In addition, great attention has been made to the power delivery design of this motherboard. A 5 phase power delivery system and an 8 pin CPU power connector, compared to other brands, ensures that the most important part of your PC, your high-end CPU, is supplied with stable power for maximum performance.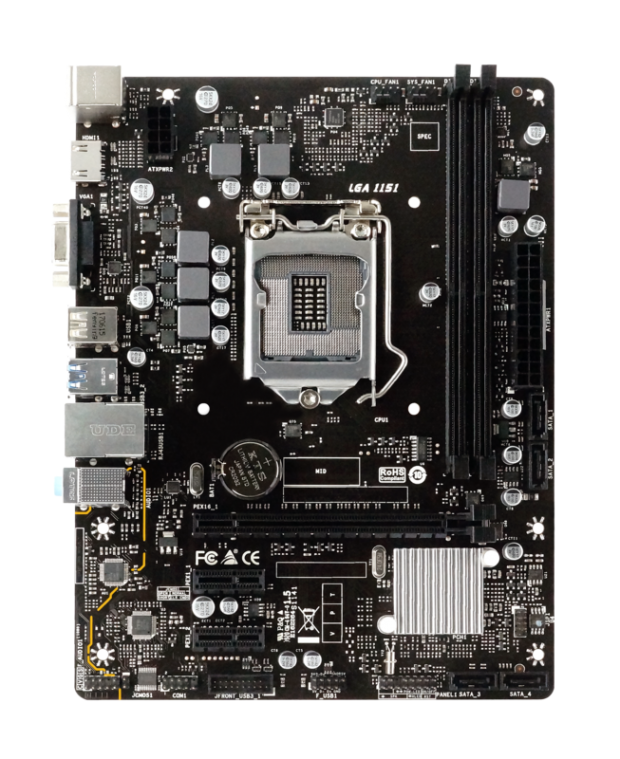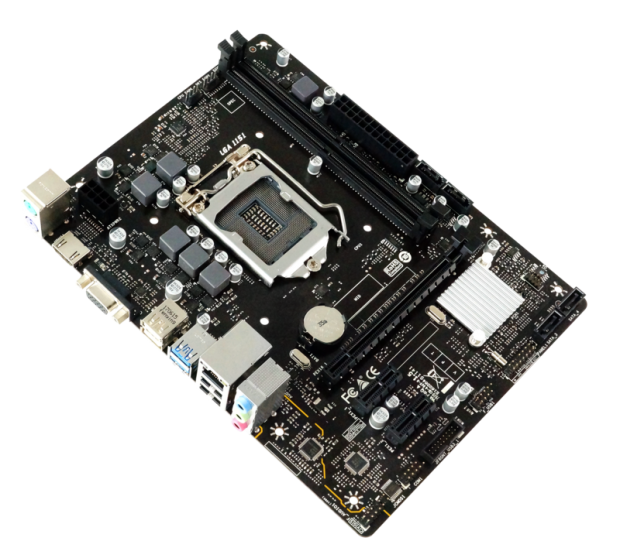 Intel H310 Chipset
The Intel H310 chipset is a single-chipset design to support socket 1151 Intel 8th generation Intel Core processor-based platform. Provides excellent performance and increased bandwidth and stability. The PC platform features improved adaptive performance that adds speed when you need it. When combined with advanced system responsiveness, the platform delivers the ultimate PC experience.
HD Audio
Provides high-quality sound with minimal loss of audio fidelity.
DX12
DirectX 12 introduces the next version of Direct3D, the graphics API at the heart of DirectX. Direct3D is one of the most critical pieces of a game or game engine, and we've redesigned it to be faster and more efficient than ever before. Direct3D 12 enables richer scenes, more objects, and full utilization of modern GPU hardware.
Integrated HDMI with HDCP
Onboard HDMI connector allows full video & audio support. It has industry-leading high definition video quality.
USB 3.1 Gen. 1 Type-A
Experience Fastest data transfers at 5 Gbps with USB 3.1 Gen 1--the new latest connectivity standard. Built to connect easily with next-generation components and peripherals, USB 3.1 Gen 1 transfers data 10X faster and backward compatible with previous USB 2.0 components.
PCI-E Gen. 3.0
PCI-E 3.0 is the next evolution of the ubiquitous and general-purpose PCI Express I/O standard. At 8GT/s bit rate, the interconnect performance bandwidth is doubled over PCI-E 2.0, while preserving compatibility with software and mechanical interfaces.
SATA III 6Gbps
SATAIII 6Gbps provides a higher bandwidth to retrieve and transfer HD media. With this super speed data transfer, SATAIII allows an incredible data boost which is 2x faster than the SATA 3G.
Dual DDR4
The primary advantages of DDR4 over DDR3, include higher module density, lower voltage requirements, coupled with higher data transfer rate.
100% Solid Caps
With armor-plated Biostar Technology, all capacitors are placed with 100% solid capacitors that have a lasting life cycle, durability, and stability for crucial components.
UEFI BIOS
Unified Extensible Firmware Interface (UEFI) is a brand new framework that provides a revolutionary interface. It is a modern clear and easy-to-use graphical user interface. The UEFI comes with a colorful easy-understand icons leads users into the setup layer directly.
A Fully Comprehensive I/O System
The BIOSTAR H310MHP rear I/O is equipped with the essentials to perform the day to day tasks such as 1x PS/2 Keyboard / Mouse, 1x VGA Port and 1x HDMI Port. In addition, 1x GbE LAN port, 2x USB 3.1 Gen1 Ports, 4x USB 2.0 Ports, and 3x Audio Jack are featured for optimum productivity.
The BIOSTAR H310MHP, is the company's newest model for the H310 chipset which incorporates some of the industry most advanced technologies, including USB 3.1 Gen 1 to allow for data transfer speeds up to 5G, GbE LAN, and support for 2-DIMM DDR4 memory for up to 32GB at 2666MHz, all combined within a Micro-ATX form factor to fit inside the most discrete cases, ensuring a perfect blend in an office environment or as an home jack of all trade PC.