Final Assault Paves the Way for VR Esports at WCG
Tue, Jul 16 2019 7:32 PM CDT
Austin Texas, July 16, 2019 -- Phaser Lock Interactive is ushering in a new era of esports with their Virtual Reality (VR) game title Final Assault. By taking the stage at the World Cyber Games (WCG) 2019 in Xi'an, China on July 18th-21st, Final Assault will stand alongside esport giants Dota 2, Starcraft 2, Hearthstone, Warcraft 3, CrossFire and Clash Royale in the World Championships.
Final Assault is an action-packed, WWII themed VR RTS. In only its first season as part of the VR Master League, it is now the first VR game to be featured at WCG, included in their "New Horizons" division. Final Assault looks to bring a new approach to the classic Real-Time Strategy (RTS) genre by mixing RTS and MOBA gameplay with immersive and intuitive VR game mechanics. This new approach requires not only tactical thinking but also fast physical reflexes, creating a different experience for both players and spectators.
The WCG has been running preliminary matches throughout the year with top-tier industry influencers from around the world including players from North America, the Netherlands, Poland, Australia, South Korea, and China. The top 12 players fought for the opportunity to be flown to Xi'an, China with the six winners now competing for a chance to be crowned the first-ever VR Champion of the World Cyber Games. During the four-day exhibition, players will mingle with other esport champions, attend TED Talks and a music festival and rub shoulders with online influencers and celebrities.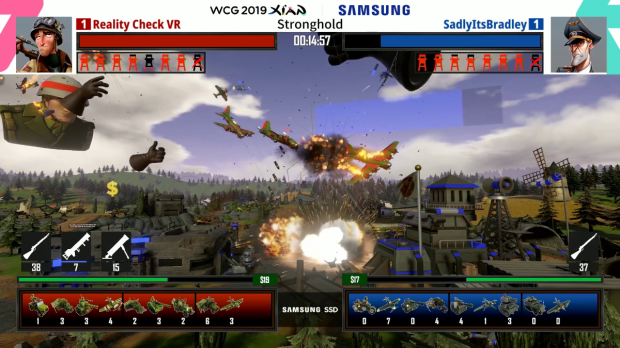 Final Assault is an action-packed, WWII themed RTS that capitalizes on the power of Virtual Reality. Command jeeps, tanks, and artillery in massive ground battles as the skies erupt in bullets, flak and dynamic dog fights. Strategic decisions have consequences that require quick thinking and fast VR reflexes. This new approach to classic RTS gaming utilizes compelling and immersive gameplay that can only exist in VR.
During the week of the WCG event, Final Assault will have a free to play weekend from July 18th-21st on Steam. Players can get their hands dirty in the VR battle, play cross-platform and compete in tournaments. What's more, Final Assault will also be 35% off from July 18th-26th to celebrate the World Cyber Games!
Last updated: Sep 25, 2019 at 05:39 pm CDT
Related Tags