Taipei, Taiwan - July09, 2019 - ADATA Technology (Taiwan Stock Exchange: 3260.TWO), a leading manufacturer of high-performance DRAM modules, NAND Flash products, and mobile accessories today announces the launch of the ADATA Ultimate SU650 M.2 2280 SATA Solid State Drive (SSD). Equipped with 3D TLC Flash memory, the SSD offers up to 480GB of capacity and sports read/write speeds of up to 550/510MB/s. What's more, it also supports intelligent SLC caching and features Low-density parity-check (LDPC) error correcting code technology for enhanced performance and data integrity. Sporting an M.2 2280 form factor the SU650 is ideal for both laptop and desktop PCs and does away with the connection of cumbersome cables during installation.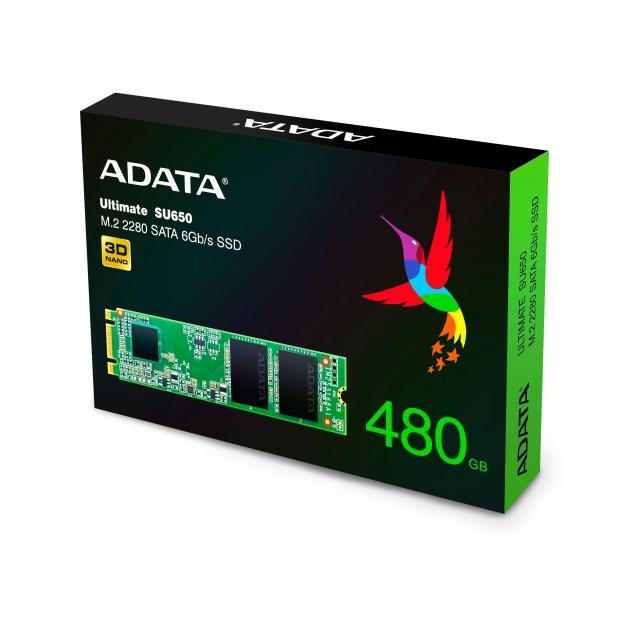 3D NAND is a Great PC Upgrade
Implementing 3D NAND Flash, the SU650 features higher storage capacities (120GB, 240GB, and 480GB), improved efficiency, and better reliability. Whether used as storage or a boot drive, it's a great upgrade choice for users, especially those making a change from hard disk drives (HDD) to SDD. In addition, 3D NAND Flash consumes less power, up to 80% less than HDDs, which is ideal for users that often work on laptops for extended periods.
Very Fast, Very Reliable
With intelligent SLC caching, NAND Flash memory boosts performance. This allows the SU650 to reach read/write speeds of up to 550/510MB/s for smoother and faster boot, file transfers, and downloads. What's more, with LDPC error correcting code technology, the SU650 can detect and fix errors to ensure data integrity and thus enjoy an extended lifespan. It also sports a mean time between failure (MTBF) of 2 million hours, compared to 1.5 million for 2D NAND Flash, offering increased reliability.
SSD Toolbox and Migration Utility Software
With the purchase of the SU650, users qualify to download ADATA's SSD Toolbox and Migration Utility. SSD Toolbox allows users to monitor and manage the SU650, with drive status, wear level, and lifespan information. The Migration Utility is especially helpful for users making a move from HDD to SSD, as it is designed for simple and quick backup and migration of the contents of entire drives, including the operating system.
Exact availability of the ADATA Ultimate SU650 M.2 2280 SATA 6Gb/s SSD may vary by region. To find out about availability and prices in specific markets, please contact your nearest ADATA office or retailer via www.adata.com.
Last updated: Sep 25, 2019 at 05:39 pm CDT