West Suffolk College, North Cambridge Academy and Parkside Community College scoop top prizes at FXP student games jam
Mon, Jul 8 2019 8:31 PM CDT
More than 100 school and college students gathered at Cambridge Regional College this weekend to compete in FXP Festival (6 - 8 July), a games design and development competition for young people in East Anglia. Working in teams of up to five, students had two days to build or design a game based on the surprise theme of 'Apollo'.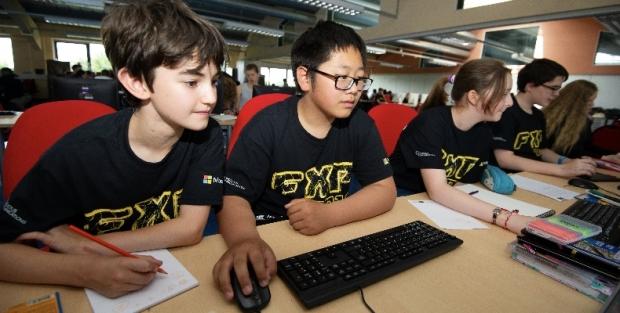 Winners included teams from West Suffolk College, North Cambridge Academy, Parkside Community College and Stephen Perse Foundation.
Now in its 4th year, FXP Festival delivers an exciting hands-on game development experience, involving students with a wide range of abilities, from those experienced in coding, to individuals more interested in the creative concept and artistry of game design. Incorporating elements of the national curriculum, FXP aims to provide students with an important connection between what they learn in the classroom, their further and higher education options, and the exciting career opportunities right on their doorstep.
FXP comprises two streams - Games Concept, where students map out an original game concept, and Games Development where students programme and build an original game - with two age group categories; Level 1 for school students up to and including GCSE level, and Level 2 for sixth form and college students.
First place in the Level 1 Development competition was awarded to team Pentahedron from Parkside Community College; runners up were team The Mengerists from Sawston Village College, and team SebWay from Sawston Village College. First place in the Level 2 Development competition was scooped by team Weekend Furries from West Suffolk College, with second place going to team K with a K from Longsands Academy and third to team Pikolas Cage from Longsands Academy.
Team NCA Bob from North Cambridge Academy was crowned winner of the Level 1 Concept competition. Second place went to team Day 1 from North Cambridge Academy, and third was team Error 404 from Stephen Perse Foundation. First place in the Level 2 Concept competition was awarded to team Fortunate Voodoo Victims from West Suffolk College, with runners up team Girls with all the Gifs from West Suffolk College and Team K with a K from Longsands Acdemy.
A new award for the 2019 competition was 'Best Story' which recognised the game with the most compelling narrative. Team NCA Bob of North Cambridge Academy took home the prize of a trip to Lockhouse Escape Rooms in Cambridge.
A Visual Verse award for the best short story was presented to a student from Stephen Perse Foundation, whose story will be published on the Visual Verse website.
The surprise theme of 'Apollo' was announced by Mark Ogilvie, Design Director at Jagex, to a room of excited students on Saturday morning. The word could be interpreted in any way, or spelling, and the students used their imaginations to choose themes ranging from space to Greek mythology.
Addressing the audience at the awards ceremony, Mark Ogilvie said: "Another great year of unbridled creativity and passionate prototypes... with more interpretations of Apollo than you can shake a space station shaped stick at. FXP continues to be the highlight of the academic calendar for Jagex and lets me know that the next generation of games makers will be truly out of this world."
Organised by Conscious Communication in collaboration with Cambridge Regional College and Jagex, FXP Festival is supported by major players in the creative digital sector, who provided mentoring and coaching throughout the weekend, as well as sponsorship and prizes. These included: Anglia Ruskin University, Arm, Rizing Games, Table Flip Games, Crown House publishing and The Curved House publishing. Other prizes awarded at FXP were: an Afternoon at Jagex's games studio; Jagex goodie bags; Arm goodie bags including Micro:bits; Tickets to EGX Festival; Crown House publishing book bundles and Table Flip Games download codes.
Alison Taylor, Co-founder of FXP Festival and Managing Director of Conscious Communications, said: "When we established FXP Festival four years ago, we wanted to create an opportunity for young people in our community to discover more about the incredible creative and technology businesses operating around them, while developing their computer science and artistic abilities, teamwork skills and confidence - all in the enjoyable context of a games jam. It's been fantastic to see the initiative grow and grow over the years - every competition we see lots of returning faces, as well as new schools and colleges keen to try their hands at games development and design. Well done to everyone who participated and thank you to the wonderful teachers and industry mentors who gave up their weekend to help."
Related Tags