Pohlheim, 3 July 2019 - Sharkoon Technologies is an international supplier of PC components and peripherals, offering performance at a reasonable price. Sharkoon now presents their latest PC cases, the CA200M and the CA200G, from the new premium series, ELITE SHARK. Both cases stand aside from price-conscious criteria and are dedicated to a presentation of elegance and sophistication as well as extensive room for high-end hardware. Of course, tempered glass side panels and RGB illumination are not forgotten.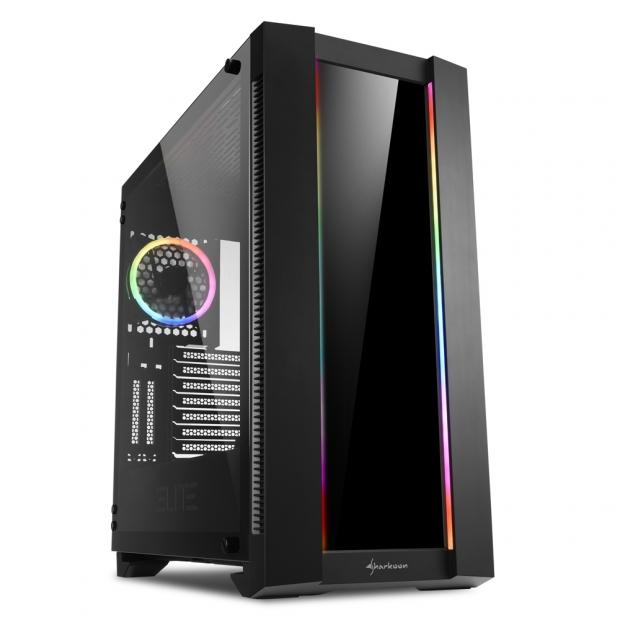 ELITE SHARK CA200M: Abundant Room Inside with Optimum Airflow
Next to an elegant side panel made of tempered glass, the CA200M also has a front panel with a fine mesh grille which caters for an enhanced throughput of air. Thus, the PC case not only allows an optimal view into the inside workings of the case, but it also provides the installed components with an ideal airflow. The hinged side panel enables quick and easy access to the inside of the case.
ELITE SHARK CA200G: Pure Elegance
Just like the case version described above, the CA200G also has a hinged side panel made of tempered glass. However, there is just one difference that characterizes this version: instead of a mesh grille, the main element of the CA200G's front panel is made of glass. Due to its reflective tint, the glass is almost non-translucent and is thus a perfect background for the RGB illumination.
Ample Space for High-End Components
As well as ATX and E-ATX mainboards, graphics cards with a length of up to 42.5 centimeters will also find room in the CA200M and CA200G full towers. In addition, CPU coolers with a height up to 16.5 centimeters and power supplies with a length of up to 24 centimeters have space within the generous dimensions inside the cases. Apart from the complete system cabling, four 3.5 inch hard drives and seven 2.5 inch SSDs can all be installed.
Sophistication in Color
Both PC cases are not only equipped with LED strip lighting on the front panel, but they are also pre-installed with a 120 mm addressable LED fan on the back panel. Via mainboards with headers for addressable LEDs, it is also possible to connect up to six more lighting components. Using the pin configuration 5V-D-coded-G or 5V-D-G, these elements can be illuminated within a range of 16.8 million colors. However, even without this connection on mainboards, the illumination can still be adjusted. This occurs through the integrated RGB controller which allows 20 preset lighting effects to be selected using the case's dedicated illuminated switch.
Graphics Card Installation: Classic or Vertical
Whichever version of the ELITE SHARK CA200 you choose, there are no limits to the installation of graphics cards. These can be conventionally mounted or even mounted vertically. For classical horizontal installation, a graphics card holder is included as an accessory, which is simply installed with thumbscrews. The holder, with a protective rubber cover, prevents the graphics card from sagging. Two additional expansion slots are available on the case for vertically positioned graphics cards. To install these, a vertical graphics card kit is separately available from Sharkoon.
Optimum Airflow in both Versions
In both the CA200M and the CA200G there are seven locations for fans. In addition, the case will support dual radiator setups: 420 millimeter radiators can be installed in the front of the case, and 360 millimeter heat-exchangers can be placed under the top panel. With a special mount and extra-long installation slots inside the case, Sharkoon has also catered for the easy installation of a reservoir and water-cooling pump. And to avoid dust and dirt from entering the case, every opening for airflow has a removable dust filter.