LOS ANGELES ( July 1, 2019) - Today, SQUARE ENIX kicked off celebrations for the third anniversary of the hit mobile role-playing game, FINAL FANTASY BRAVE EXVIUS, with limited-time events and generous in-game rewards. Surpassing more than 39 million downloads worldwide, the smash hit mobile game also welcomed Katy Perry back to the world of Lapis in the recent "Pop Hits" event. Players can obtain "Immortal Flame Katy" as a playable character for free for a limited time, and also hear Katy Perry's original song, "Immortal Flame," through the event stages.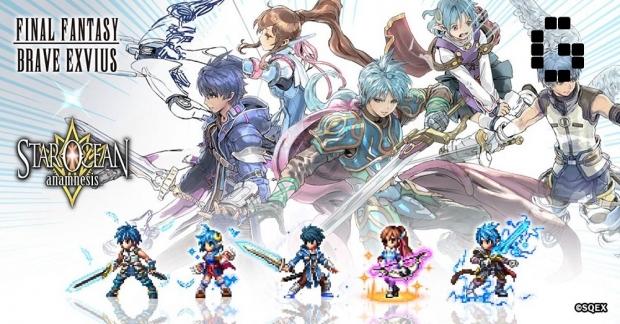 Players can enjoy the following events and rewards as part of the anniversary celebration:
Third Anniversary Login Bonus - Players who login daily until July 31 can receive generous bonuses, including Premium 10+1 Summon Tickets, Chocoboâ"¢ Rain (a 4-star unit), 300 more Third Anniversary Summon Tickets, a total of 10,000 lapis and more.
Third Anniversary Ticket Summon - Players can obtain various useful items from this special banner, including Select Summon Tickets, Prism Moogles and 5-star Guaranteed EX Summon Tickets. Players can obtain Third Anniversary Summon Tickets (required to pull from this banner) from login bonuses and by completing anniversary events.
Weekly Free 10+1 Summon - Players can enjoy one free 10+1 Summon per week for a total of 5 weeks, available now until August 4.
Global Original CG Unit - Players can obtain Elena through a featured summon beginning in July. By using her powerful Limit Burst, players can enjoy her accompanying beautiful and brand-new CG movie.
Additional new units - Beginning July 5, players can collect new units, including the Sacred Shield Charlotte, Friese and Shepard through a banner summon.
Chamber of the Vengeful - This global exclusive Trial is accepting all challengers today. Players can face off against a new challenging boss each month. Additionally, from July 11 to July 31, all Trials will require half NRG to challenge.
FINAL FANTASY Series Boss Battles - Later in July, players can look forward to additional challenging boss fights against FINAL FANTASY series legends. Players can first try their hand against Chaotic Darkness, and strategically utilize unit status bonuses by having select units in their party.
Player's Voice Campaign - Players can vote in-game for their favorite campaigns to return at a later date until July 11. All players who vote will receive an in-game reward for doing so. The second round of voting will begin on July 12.
Comeback Campaign - To welcome players new and old to celebrate the 3rd Anniversary of FINAL FANTASY BRAVE EXVIUS, a special Comeback Campaign will be available during the campaign period. Until July 31, all players can receive up to 5,000 lapis depending on the number of players who return during the campaign period.
NRG for story quests is halved and the Chamber of Gems, Creation, Awakening, Riches, and Crystals are all open until July 31, allowing players to catch up on the story and upgrade and enhance their units more easily.
This past weekend, FINAL FANTASY BRAVE EXVIUS producer Kei Hirono and global version producer Hiroki Fujimoto celebrated the game's third anniversary through a special livestream event held in Los Angeles. Fans can watch the recording of the livestream here: https://sqex.link/54495.
Additionally, until maintenance begins on July 4, players can also jump into the ongoing Collection of Mana in-game collaboration by challenging the Divine Beast raid event and The Dreaded Lost Continent Trial to earn valuable rewards. Players can obtain beloved characters, including Randi, Flammie, Primm and Popoi, through a limited-time banner, while Rabite is obtainable through a raid summon.
FINAL FANTASY BRAVE EXVIUS is available now as a free-to-play app (with in-app purchases) through the App Store, Google Play and the Amazon App store. This title is developed as a collaboration between SQUARE ENIX and gumi Inc. (developer of the hit title Brave Frontier). The game is available in six languages: English, German, French, Spanish, Chinese (traditional) and Korean.