Twitch Prime Kicks Off Prime Day with Massive Offers Including Free Content from Apex Legends and EA SPORTS
Jun 30, 2019 5:32 AM CDT
SEATTLE - June 27, 2019 - Twitch Prime is going big for Prime Day 2019 with free content giveaways for Apex Legends and EA SPORTS titles. Altogether, Twitch Prime has offered members free games and in-game content worth over $2,000 in 2019 so far. Twitch Prime is also bringing celebrities, top streamers, and Amazon Prime members together for the Twitch Prime Crown Cup featuring Apex Legends and one of the top EA SPORTS franchises, with tournaments in London and Las Vegas.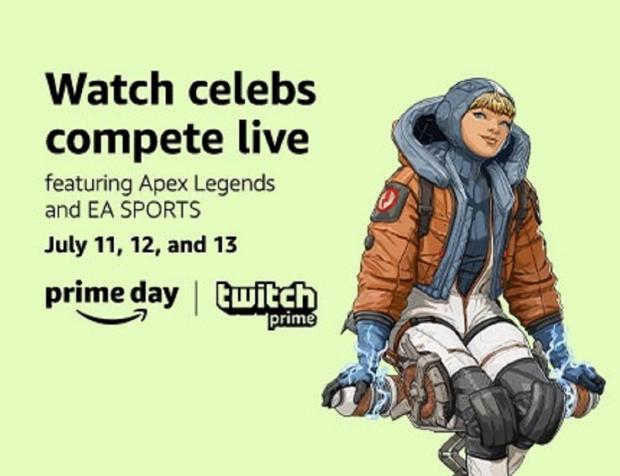 The fun kicks off July 3, when Prime members can unlock an exclusive Legend skin and weapon skin for Apex Legends. Throughout July and August, members can get their hands-on three more exclusive Apex Legends skins and content from multiple EA SPORTS titles. It's all part of Twitch Prime's mission to be the best deal in gaming, combining tremendous value with outstanding content for the best games, all year long. Members must link their Twitch Prime account with their EA account to take advantage of these in-game offers. Not a Prime member? Join Prime or start a 30-day free trial at amazon.com/primeday, to unlock free in-game items and take advantage of Prime Day deals on July 15 & 16.
"This summer, we're kicking off Prime Day in a big way, with in-game items from Apex Legends and EA SPORTS, and Twitch Prime Crown Cup events in London and Las Vegas." said Ethan Evans, VP, Twitch Prime. "It's all part of our mission to make Twitch Prime one of the best deals in gaming, with monthly gaming content plus all the other benefits of Prime. We hope our members are going to love all the Prime Day content as much as we do, and we can't wait to see everyone online for the Twitch Prime Crown Cup tournaments."
In addition to the free in-game giveaways, Twitch Prime is holding two massive events. On July 13, celebrities, top streamers, and Prime members will descend on London and Las Vegas for Twitch Prime Crown Cup tournaments featuring Apex Legends and top EA SPORTS games-an eight-hour livestreamed extravaganza filled with games, stars, and frenetic, friendly contest. It all happens live on twitch.tv/twitchprime, starting at 6 p.m. BST/ 10 a.m. PDT.
As the Twitch Prime Crown Cup gets underway in London, fans will watch world-class athletes and celebrities including Olympic gold medalist runner Sir Mo Farah, legendary footballer Thierry Henry, and five-time X Games gold medalist street skateboarder Leticia Bufoni compete against each other in a top EA SPORTS title. An audience of Prime members will get up-close and personal with the stars as they cheer on their favorites live from London.
The next stop for the Twitch Prime Crown Cup is Las Vegas, where musicians and other celebrities will test their skills on the battle arena in Apex Legends. Multi-platinum music producer Murda Beatz, global platinum-selling DJ Dillon Francis, and other stars will compete to see who can stay alive the longest in an Apex Legends king-of-the-hill free-for-all. Prime members in Las Vegas will have the once-in-a-lifetime opportunity to jump into the game to defend-or attack-their celebrity of choice.
Twitch Prime offers tremendous value for gamers all year long, including in-game content for some of the world's most popular games, plus free games each month, a monthly Twitch channel subscription, and more. This year, Twitch Prime has already offered more than $2,000 in free games and content, and two dozen free games. All current Twitch Prime offers can be found here. On top of all the game benefits, members get all the other benefits of Amazon Prime, including fast, free shipping on millions of items.
Prime Day starts at midnight on Monday, July 15 and - for the first time ever - runs for 48 hours, offering members two full days of the best in shopping, saving and entertainment. Prime Day will include more than one million deals worldwide across hot categories like Amazon devices, TVs, smart home, kitchen, grocery, toys, fashion and furniture, reserved exclusively for Prime members. Prime Day has expanded to 18 countries, offering the biggest celebration of deals to members in the U.S., U.K., Spain, Singapore, Netherlands, Mexico, Luxembourg, Japan, Italy, India, Germany, France, China, Canada, Belgium, Austria, Australia and - new this year - United Arab Emirates.
About Twitch Prime
Twitch Prime is the Amazon Prime home for gamers. Benefits include in-game loot, free games, a free monthly channel subscription on Twitch and all the benefits of being a Prime member including unlimited access to award-winning movies and TV episodes with Prime Video; unlimited access to Prime Music, Prime Reading, Amazon Photos; early access to select Lightning Deals, one free pre-released book a month with Amazon First Reads, deep discounts at Whole Foods Market, and unlimited free two-day shipping on more than 100 million items.
Related Tags