June 25, 2019 - Howdy, fellow gunslingers! Great pleasure to welcome you to our first Developer Shoot Out on our pixel art rogue-lite shooter Colt Canyon. Within the next weeks and months we will be sharing tons of news on the steps we are taking to bring Colt Canyon to life. You will also learn how it became this action-packed Wild West adventure full of dangers and atmosperic sceneries.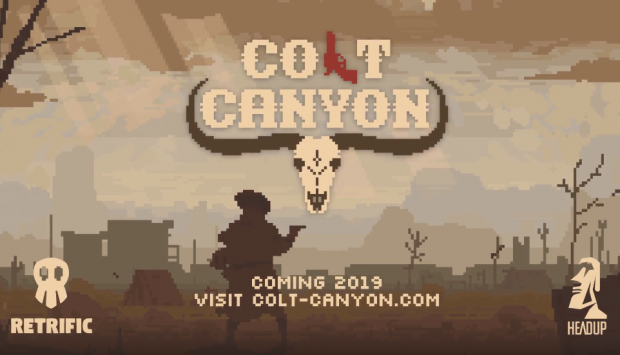 Let's talk about the music: To make the Western experience as great as possible and allow the players to immerse into a story full of flying bullets, bloodthirsty enemies and dangerous wildlife you need an atmospheric soundtrack that'll support the story and action on screen - no matter if it's a movie or a game.
Colt Canyon is no exception. The game is designed in a minimalistic and pixelated style with color, mood and vegetation differing depending on the various regions the players are shooting their way through - and it's the same for the soundtrack.
Luigi-Maria Rapisarda, composer of Colt Canyon's soundtrack: "Endless deserts, smoking colts, saloons in which the whiskey flows, bandits that wanna chase you down and the burning sun in the sky combined with typical instruments like harmonica, fiddle or an old bar-piano - the Colt Canyon soundtrack is inspired by the works of Ennio Morricone on the great Spaghetti Western movies of the 60s and 70s."
About Colt Canyon
Loot. Shoot. Dodge. Reload. Take your revolver and rescue your kidnapped partner in this atmospheric and punchy roguelite game.
Colt Canyon is a 2D pixel art shooter where you control a cowboy, or one of the many other unlockable characters, whose mission is to save his kidnapped partner from the ruthless bandits. Take your gun and TNT and shoot your way through a hostile canyon full of hidden treasures, weapons, obstacles and all kinds of bloodthirsty scum. Maybe you can save more people than just your partner. But watch out. Once you got your partner your job is not done. You'll also have to get back home...
Features
Range of characters and weapons to play and unlock

Dynamic and immersive environments and enemies

AI-Controlled companions

Local Coop

Upgrades for you and your companions

Randomized, persistent and open levels

Strategic stealth and fast-paced action

Boss Fights

Roguelike elements

Permadeath

High replayability

Beautiful minimalistic pixel art

Punchy particle effects

and much more...
About Headup
Headup is a hybrid games publishing and development company providing players worldwide with the best content in the independent gaming sector. Established in 2009, it is active on all major platforms such as consoles, mobile devices and PC, and was awarded as "Best Publisher" at the German Developers Awards in 2012, 2013 and 2017. With over 80 million customers served on mobile and further several million players on the PC and consoles, Headup is always looking to raise awareness and commercial success for developers thinking outside the box. More information can be found at headupgames.com.
Last updated: Sep 25, 2019 at 05:39 pm CDT