05/28/2019 - Thecus is excited to announce that the new Seagate IronWolf and IronWolf Pro hard drives with capacities of 16 Terabyte can be used in every current Thecus NAS model. Furthermore, the soon to be available 12TB WD Red and WD Red Pro by Western Digital have also been added to the official HDD compatibility lists of Thecus.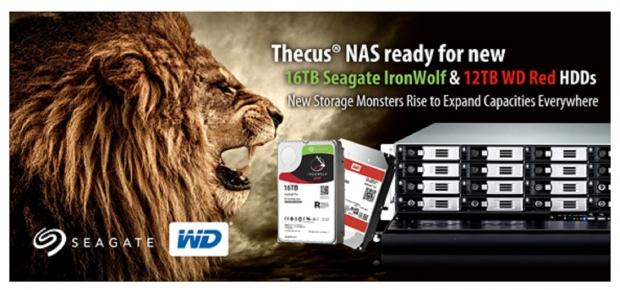 The new 16TB Seagate IronWolf and IronWolf Pro are based on the same proven and reliable technology used in former models like the 14TB versions released last November. The HDDs are using sealed casing with Helium to achieve those high capacities and improve their power efficiency - especially important when used in NAS with a high number of bays like the Thecus rackmount models.
The IronWolf drives support "Seagate AgileArray" NAS optimization to enhance concurrent access, "IronWolf Health Management" (IHM) to safeguard data and improve reliability and rotational vibration sensors maintain performance especially in multi-bay NAS. The IronWolf Pro series additionally includes a longer warranty time, higher guaranteed workloads and Seagate's own rescue service to get your data back even if the drive should fail (optionally available for standard IronWolf HDDs).
The WD Red drives by Western Digital are designed and optimized for NAS and have been offered with up to 10 Terabyte so far but soon the 12TB versions will be available.
After extensive compatibility testing with many different models, the WD Red and WD Red Pro 12TB, the Seagate Ironwolf and IronWolf Pro 14TB are drop-in ready for every current Thecus NAS (and even many older models) to expand capacity and satisfy any storage-needy application or environment.
To discover the full range of HDD compatibility for Thecus NAS, please visit: thecus.com/sp_comlist.php
Learn more about Thecus' support of Seagate IHM here: thecus.com/seagate.php
Find out more about the Seagate IronWolf family here: seagate.com/internal-hard-drives/HDD/ironwolf/
Find out more about the WD Red and WD Red Pro NAS drives here:
westerndigital.com/products/internal-drives/wd-red-HDD
For more information about Thecus, please go to:http://www.thecus.com/