Mythos-inspired CCG 'World of Myths' is Now on Steam Early Access
May 30, 2019 8:34 PM CDT
[May 30, 2019] -- Developer Rebellious Software is pleased to announce that their mythos-focused collectible card game World of Myths has released on Steam Early Access. Featuring Greek, Norse, and Japanese mythologies at launch, players will pledge loyalty to their favorite pantheon and play with one of the legendary gods.
Derailing from the typical mechanics of CCGs, World of Myths' gameplay focuses on attacking the opponent's temples rather than their minions. In fact, the creatures in World of Myths rely on endurance rather than health points and do not directly attack each other. Instead, players will engage in strategic gameplay where they can select units to send in attack to a temple while the rest will lend their powers to the player's defense. Successful attacks on enemy temples will provide a variety of boosts for the players such as drawing additional cards and increasing the power of their units.
Adding an additional layer of story and tactics, players will be able to choose a God to lead their army in battle. Legends such as Odin, Zeus, and Amaterasu will grace the battlefield and provide additional benefits to a player's forces such as increased power, endurance or upgraded spells. With a planned 8 mythologies for players to choose from, World of Myths brings a rich array of history for players to choose from. By pledging their loyalty to a chosen mythology, players will earn a reputation and participate in the Faction Wars in an attempt to conquer the world.
World of Myths is available now on Steam Early Access and features an array of striking hand-drawn cards for players to collect. Fans of esports and PvP play can look forward to flexing their competitive muscles as World of Myths supports Ranked and Tournament gameplay. Players looking to play World of Myths on the go can look forward to the upcoming mobile version of the game.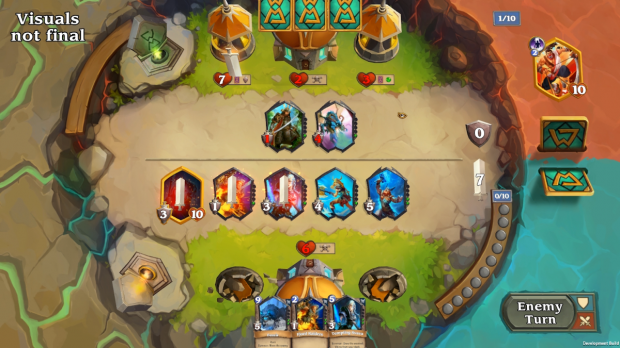 A list of features include:
Attack and defend temples

Win battles to gain powerful buffs

Champion the mythology of your choice

Play with a legendary god

Dominate the world map by loyally playing as your chosen mythology

Participate in user-generated tournaments

Choose from three mythologies at launch Greek, Norse, and Japanese
About Rebellious Software:
Created by two time Nasa Space Apps award winners, Rebellious Software has a passion for making games that make players think. By empowering players and creating immersive and social games, Rebellious Software delivers an engaging and enjoyable experience to players through their games. To find out more about Rebellious Software visit the official site http://www.rebellioussoftware.com/.
Last updated: Sep 25, 2019 at 05:39 pm CDT
Related Tags