Thermaltake Gaming Brings Next Level Performance to Your RGB Gaming Ecosystem
Thermaltake Gaming, a market leader in eSports gaming peripherals, today announced a series of stunning new gaming gears at COMPUTEX 2019, Taipei, Taiwan (Nangang Exhibition Hall 1, 4th Floor, Booth M0120), additions to the LEVEL 20 RGB Gaming Keyboard line-up, the Level 20 RGB Razer Switch and LEVEL 20 GT RGB Mechanical Gaming Keyboard, a new first addition to the Thermaltake Gaming mouse, mouse pad, and headset stand category, the Level 20 RGB Gaming Mouse, Level 20 RGB Gaming Mouse Pad, and E1 RGB Headset Stand.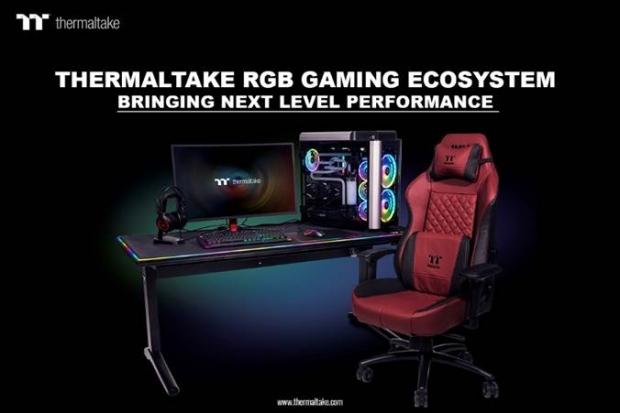 The Thermaltake X-FIT & X-COMFORT Real Leather Gaming Chair Series also sees a new Burgundy Red color addition to the line up. Completing the range of new gaming gears to maximize your RGB gaming ecosystem experience, the Level 20 RGB BattleStation Gaming Desk.
Further information about Thermaltake at COMPUTEX Taipei 2019 is available online: https://computex.thermaltake.com/2019/
For product photos and datasheets, please refer to : https://www.dropbox.com/sh/mxmbg2olmon9p4m/AAAYa0KeU2PTcRcwOx5pqan0a?dl=0
Further details please refer to the attached press release, image and Dropbox link.
We would appreciate it if you could kindly introduce us in your publication or website. Should you have any query or need high-res images, please contact us, thank you!
Related Tags