Futuristic Co-op Action RPG Killsquad Coming to Early Access on Steam this Summer
May 23, 2019 7:10 PM CDT
Barcelona, Spain - May 23rd, 2019. Independent developer Novarama are pleased to announce their co-op action RPG, Killsquad, which will launch for PC on Steam Early Access this summer. Killsquad is a top-down co-op action RPG set within the futuristic world of bounty hunters known as 'killsquads'. These hunter teams take on contracts to do the dirty work of big corporations with the lure of big money bonuses and the gravitas of intergalactic kudos.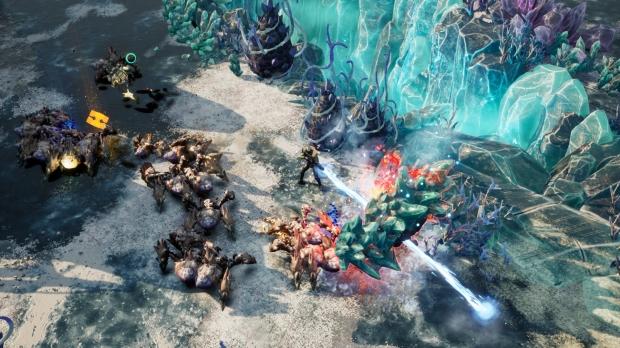 Killsquad features an in-depth loot and class system with procedurally generated levels and missions ensuring no play session, either in single player or with friends is the same.Taking place in a futuristic pulp sci-fi setting, Killsquad blends a space western styling with the top down isometric look and feel of a traditional RPG. Featuring dynamic planets that pose as much as a threat to players as the enemy inhabitants do, players embark on a contract and encounter an array of deadly creatures, automated defence systems and other lethal adversaries as they navigate the exotic, richly detailed environments of each planet.
Killsquad revolves around quick session oriented missions, giving players an intense action based single and multiplayer experience. The procedurally generated levels and fast paced nature of the game invites repeat play-throughs while taking classic staples of the action RPG genre in a fresh direction. With community at its core, Killsquad introduces a live contract system with players being offered contracts for them to undertake in real-time. These contracts effectively embrace a true community feel where other players can drop in and tag along in an open contract all enjoying the same experience, you can never have too much firepower.
Special contracts promoted through in-game events will keep the players actively engaged in an ever expanding universe.
"Killsquad is a true passion project: our tribute to all the games we've enjoyed through the years. It began as a wishlist of everything we dreamt a game should have. We hope the community feels that respect and admiration, and we look forward to expanding the Killsquad universe with them", said Game Director Dani Sanchez-Crespo.
Players can select one of 4 different heroes to play, each of which has their own distinct capabilities based on their class: Assassin, Warrior, Specialist or Support. Each class takes skill to master, thanks to a fast console-style control mechanic which unlocks character-specific abilities and traits. Killsquad's class system means players have access to plenty of upgradeable gear and design options to completely customize their chosen character including their appearance with character skins. With a variety of different weapons and contracts to unlock and equipment to acquire, players have a seemingly endless selection of options to utilize in a deadly universe that's always active.
Powerful attack skills specific to each character class can also be acquired to employ against the more deadly enemies or boss encounters along the way. Defeated enemies will drop useful resources, currency and DNA, which can be used to buy better weapons and gear in the game shop, as well as buying perks to upgrade them.
Novarama has big plans in store for Killsquad with much more content planned for the game later this year including revealing more details on a proposed console version for PlayStation 4 and Xbox One.
Related Tags