Fantastical machine builder Mechanic Miner is out now on PC Early Access
May 22, 2019 9:12 PM CDT
22nd May, 2019 - Danish development team Hello John is pleased to announce Mechanic Miner launches today on PC Early Access. Available on Steam for 14.99/14.99/$17.99 with a special launch week discount of 15% off!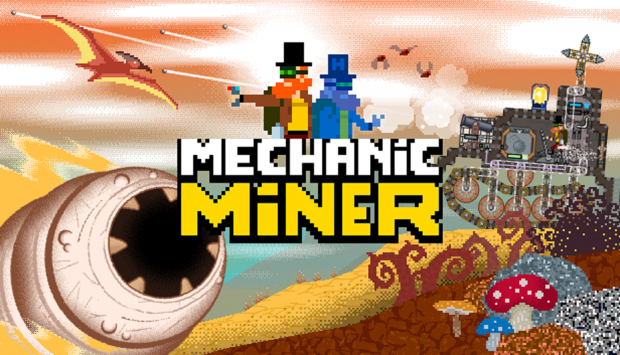 Mechanic Miner is sandbox builder where you construct crazy steam-powered machines, collect resources and acquire new technologies to help you survive a hostile alien planet. Limited only by your imagination; create a fleet of steampunk machines ranging from submarines, air balloons or spiderbots to traverse deadly terrain, protect you from the elements and survive encounters with malformed monstrosities.
Take part in the adventure in Story mode, where procedural environments ensure each run feels different. Tick off the challenges, scour the environments for resources, mine, fight, and research new technologies to prevail. With over 50 physically-simulated building parts (and more to come), player creations will be as varied as the challenges they face. Your imagination and your ability to source the required components will be the key to your survival.
"In my spare time I began working on a game about engineering... this was seven years ago and it turns out I haven't been able to stop!" said Finn Nielsen, Game Director and programmer at Hello John. "The team and I wanted to create an authentic world where players can make real, working machines. Once we put out a closed alpha an exceptional community grew around the game that helped us develop it so much. We look forward to the players enjoying the game that we have made with this amazing community."
Visit the Mechanic Miner website at: http://www.mechanicminer.com/

Follow us on Twitter: https://twitter.com/mechanic_miner

Like us on Facebook: https://www.Facebook.com/mechanicminer/
About Hello John:
Hello John is a 5 person game development team working in a small office, somewhat cramped, in Copenhagen, Denmark. Founded in 2015, the team have dedicated the last four years to their steam-fuelled creation, Mechanic Miner, which is due to be released into Steam Early Access on May 22nd, 2019.
Related Tags