Chimera One Launches BulletRage Kickstarter
May 22, 2019 9:02 PM CDT
Toronto, Canada - April 25, 2019 - Developers Chimera One Games has announced that the Kickstarter for the upcoming arcade-style twin stick shooter BulletRage is now live. Blending elements of classic arcade twin-stick shooters, fast-paced bullet hells and the high octane action from titles such as DOOM, as well as the satisfying carnage from classics like SmashTV. BulletRage brings a seamless multiplayer experience for both casual and competitive players alike.
Throughout its three years of development, BulletRage developers have created a vast weapons system reminiscent of Roguelike weapon sandboxing giving players access to millions of weapon combinations that they can then pair with a number of insane power-ups for massive levels of carnage. Chimera One has also hand-crafted a 40 level campaign mode for BulletRage as well as developed a co-op system that up to four players can enjoy in online or local play. Players can also shoot it out in the game's various competitive PvP modes.
BulletRage's Kickstarter will support the development of additional features for the game. Chimera One has announced additional PvP modes including the Fortress Battle Mode, Endless Mode which will allow players to enter an endless number of randomly generated dungeons, Gauntlet Mode aimed for fans of speedrunning, an in-game voice system, as well as developing the game for consoles as initial stretch goals. In addition to Kickstarter support, fans of the game will also be able to unlock new achievements such as tasty French fry ammo, an in-game jukebox, and new classes by supporting the game on social media, creating fan art or memes, and downloading the game's free demo.
Players can back BulletRage on Kickstarter now and can download the free demo by heading to the game's Itch.io page, with a Steam demo coming soon. To find out more about BulletRage visit the official site here.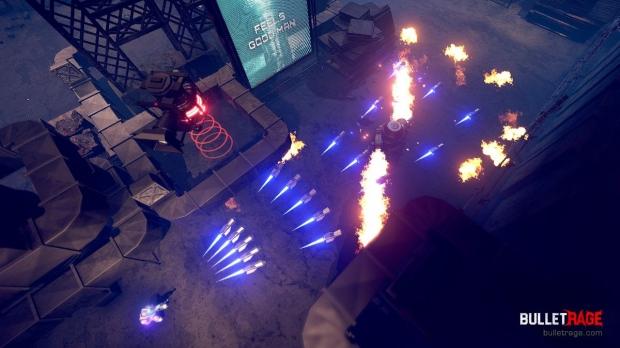 A full list of features includes:
5 difficulties fine-tuned for casual to competitive gameplay

Up to 4 players with local or online multiplayer co-op

Compete against others online in various PvP modes

Twitch and Mixer MixPlay Extension Mode: audiences can unleash deadly enemies and even unlock unique gameplay and paths

Giant boss fights of epic proportions

Weapon socket system with millions of weapon combinations

More than 40 hand-crafted levels in campaign mode

Infinite replay with special randomly generated dungeons offering daily and weekly challenges

Acquire achievements to unlock player skins and secret weapons

Use the built-in level editor to create levels you can share with the world

Dozens of exciting arcade power-ups and unique enemies

Cross-platform leaderboards
Related Tags