Relive The American Revolution In Assassin's Creed III Remastered, Available Now On Nintendo Switch
May 21, 2019 7:05 PM CDT
LONDON, UK- May 21st, 2019 - Today, Ubisoft announced that Assassin's Creed III Remastered, including Assassin's Creed Liberation Remastered, is now available for the Nintendo Switch system. Additionally, all solo DLC from the original game will be included: Benedict Arnold missions, Hidden Secrets and The Tyranny of King Washington.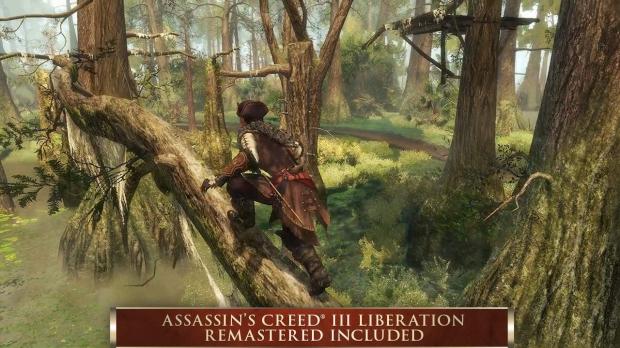 Developed by Ubisoft Chengdu and Ubisoft Barcelona, Assassin's Creed III Remastered takes full advantage of the capabilities of the Nintendo Switch, featuring a touchscreen interface, motion-control aiming, optimized HUD and HD rumble. Additionally, gameplay mechanics and ergonomics have been improved for an optimal gaming experience.
In Assassin's Creed III Remastered, relive the American Revolution and play as Connor, the warrior son of a Native American mother and British father. As the bloody revolution draws near, your clan is threatened by a powerful group seeking to crush the American Revolution and control the thirteen colonies. After the devastation of your village, you pledge your life to preserve freedom. Unleash your deadly skills in a decades-long quest that will take you from the chaotic city streets to blood-soaked battlefields in the hostile American wilderness and beyond. Explore colonial Boston, New York, the frontier and various epic naval missions, meeting legendary American heroes as you conspire to annihilate all those who threaten liberty.
Assassin's Creed III Remastered includes Assassin's Creed Liberation Remastered, which tells the unforgettable journey that takes Aveline from the crowded streets of New Orleans to voodoo-haunted swamps and ancient Mayan ruins.
For more information on Assassin's Creed III Remastered, please visit assassinscreed.com.
For the latest on Assassin's Creed III Remastered and other Ubisoft games, visit news.ubisoft.com.
ABOUT UBISOFT:
Ubisoft is a leading creator, publisher and distributor of interactive entertainment and services, with a rich portfolio of world-renowned brands, including Assassin's Creed, Just Dance, Tom Clancy's video game series, Rayman, Far Cry and Watch Dogs. The teams throughout Ubisoft's worldwide network of studios and business offices are committed to delivering original and memorable gaming experiences across all popular platforms, including consoles, mobile phones, tablets and PCs. For the 2017-18 fiscal year Ubisoft generated sales of 1,732 million. To learn more, please visit www.ubisoft.com.
Last updated: Apr 7, 2020 at 12:12 pm CDT
Related Tags