Taipei, Taiwan - May 20, 2019 - ADATA Technology (Taiwan Stock Exchange: 3260.TWO), a leading manufacturer of high-performance DRAM modules, NAND Flash products, and mobile accessories today announces that the XPG Overclocking Lab (XOCL) has overclocked the SPECTRIX D60G RGB DDR4 memory module to a frequency of 5738 MT/s, a new world record. The previous record was 5726 MT/s, which was set only a few days prior. The new record was achieved with an Intel Core i9 chipset and MSI MPG Z390I GAMING EDGE AC motherboard in an LN2-cooled configuration.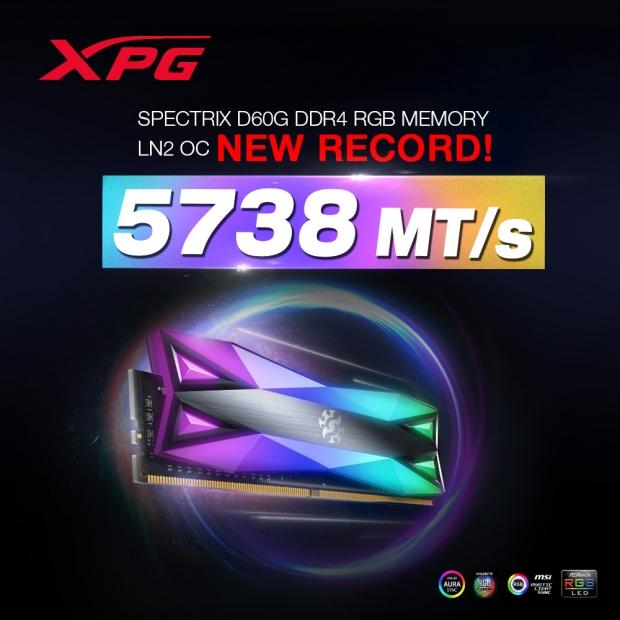 About XPG - Xtreme Performance Gear
XPG was established by ADATA with the aim of providing high-performance products to gamers, esports pros, and tech enthusiasts. XPG is committed to developing products that help users achieve extreme performance; therefore, it works closely with the gaming and esports community to gather insight into the real needs of users and incorporate it into its hardware.
Beyond performance, every XPG product surpasses the rigorous ADATA A+ testing methodology, which ensures the highest standards of stability and reliability. Not only do XPG products sport solid functionality and durability, but they also shine through with sheer cool designs that have earned prestigious international accolades such as Japan's Good Design Award. XPG delivers extreme gaming experiences to help make every moment exciting.