Taipei, Taiwan - May 20th, 2019 - The uniquely attractive Bolt B75 Pro Portable SSD with USB 3.1 Gen2 interface has joined Silicon Power's (SP) lineup of noteworthy memory storage devices. In an effort to create a well-rounded portable SSD with combined design and performance prowess, SP blended the award-winning design of a previous model with the functionality of an in-demand SSD. The inspiration originated from a German transport plane born nearly a century ago with corrugated metal skin. It inspired the SP design team to add prominent, strengthening ridges to the portable SSD.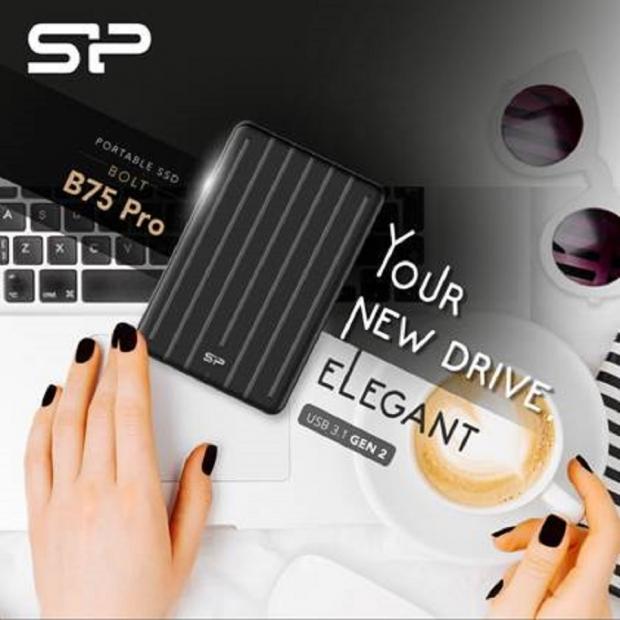 Elegant Design Meets Practical Functionality
Wrapped in a sleek and slim yet lightweight aluminum body that's military-grade shockproof, the Bolt B75 Pro is a perfect example of "form follows function." On the exterior, its 3D ridges provide a barrier from scratches and fingerprints, while the L-shaped LED light gives clear indication of the data transfer status from nearly any angle.
On the interior, it has huge storage capacity (256GB/512GB/1TB/2TB) and reads and writes at blistering speeds (up to 520 and 420MB/s respectively).
The Bolt B75 Pro Portable SSD is an eye-catching option for users who want to expand their computer's capability and boost performance anywhere. The competitive landscape of portable SSDs is rich with quality devices. With this striking addition, SP hopes to combine tremendous capabilities with their famed design in order to dominate a crowded space.
The Bolt B75 Pro Features:
Rapid data transfer with USB 3.1 Gen2 extreme high-speed interface (max. up to 10Gbp/s).

Military-grade shockproof (122cm) portable solid state drive.

3D ridged design for protection against scratches and fingerprints.

Made of lightweight aluminum with superior heat dissipation.

Slim L-shaped LED status light that can be seen from the top and front.

Includes 2 USB 3.1 fast sync and charge cables (Type-C to Type-C and Type-C to Type-A).

Free SP Widget software download available for backup and restore, AES 256-bit encryption, and cloud storage.
For more information, please visit the Silicon Power official website: www.silicon-power.com.
Last updated: Apr 7, 2020 at 12:12 pm CDT