Crystallo: a solo game of crystals, dragons, and magic
May 6, 2019 1:23 AM CDT
May 3, 2019 - New game designed, illustrated and published by Liberty Kifer is on Kickstarter now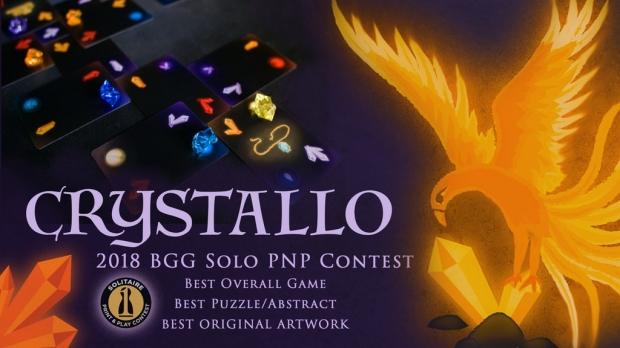 Liberty Kifer of Light Heart Games launched her first game, Crystallo, on Kickstarter Wednesday morning (May 1st.) This puzzle-like solitaire card game combines familiar mechanics like set collection and pattern building into something fresh, blending challenging abstract gameplay with a beautiful fantasy theme.
Crystallo won a slew of awards, including Best Overall Game, in the 2018 BoardGameGeek Solitaire Print and Play Contest. The game is just $15 on Kickstarter, and the campaign is off to a strong start- over 300% funded in its first 48 hours.
More about the game:
Crystallo is a solo puzzle/abstract card game with a light fantasy theme. Explore the cavern lair of the wicked Black Dragon by placing cards, free six magical creatures by creating crystal sets, and, if you should succeed with that task, trap the dragon in his own cave. Collect treasure along the way, and you may emerge a wealthy champion!
Players: 1

Time required: 20-30 minutes

Recommended ages: 8 and up
Kickstarter page: https://www.kickstarter.com/projects/lightheartgames/crystallo-the-award-winning-solitaire-puzzle-game
Email: liberty@lightheartgames.com

Instagram: http://www.instagram.com/lightheartgames

Twitter: http://www.twitter.com/lightheartgames

Facebook: http://www.Facebook.com/lightheartgames
Related Tags