Acclaimed musical puzzler Figment is coming to PS4
29 APRIL 2019 - 28 JUNE 2018 - Bedtime Digital Games is very pleased to announce their award-winning musical indie adventure, Figment, will be coming to PlayStation 4 May 14.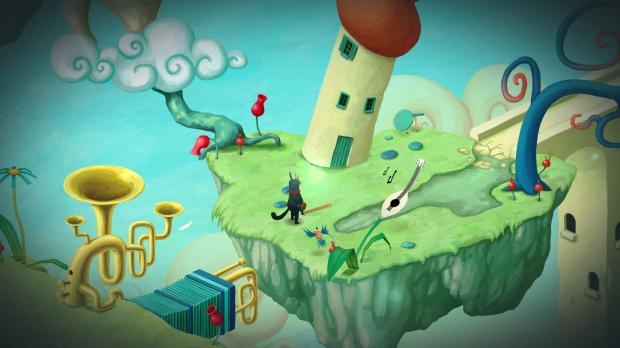 The game, which previously received rave reviews and a number of awards when it was released last year for PC and Nintendo Switch will soon be available on its most requested platform.
Figment is a musical puzzle adventure set in the recesses of the human mind. Players control Dusty, the mind's former voice of courage, as he attempts to fend off nightmares and get back to his former self.
Following widespread acclaim at the time of its PC launch last September - with reviewers calling the game "delightful" and praising its "truly outstanding musical work" - Figment has already been the recipient of a number of awards, including 'Best Narrative' at BIG Festival, 'Best Art' at Casual Connect, and 'Best Sound' at AZPlay.
The game also features a full original soundtrack written by game designer Niels Højgaard Sørensen, a.k.a. Danish screamer-songwriter Stöj Snak - and performed by the game's enemies themselves!
CEO & co-founder of Bedtime Digital Games, Klaus Pedersen said: "We are incredibly excited to be able to bring Figment to the PlayStation audience. PS4 has been the platform we've received the most requests about, by far. So we are of course super happy to finally be able to meet this demand."
For more information, please contact Jon Calvin at jon@gameifyouare.com
About Figment
Figment is a musical action-adventure set in the recesses of the human mind: a strange and surreal world; a place filled with our deepest thoughts, urges and memories, populated by the many voices we hear in our heads.
This mind has been quiet and calm for many years. But something has changed. New thoughts have started to emerge - taking the shape of nightmarish creatures who spread fear wherever they go. The only hope is for the grumpy Dusty, the mind's former voice of courage, to get back to his old self and help the mind to face its fears.
Figment invites players to join Dusty and his ever-optimistic friend, Piper, on an adventure through the different sides of the mind, solving puzzles to set things straight, beating back the nightmares and seeking to restore the courage that's been lost.
Key features:
A gorgeous hand-drawn world to explore and restore

Fight human fears head-on, as you battle with sinister nightmares

Use both brawn and brain, solving puzzles and battling enemies

Enjoy a full score of musical performances, nightmarish and otherwise, which are defined by your exploration of the world
Last updated: Sep 25, 2019 at 05:39 pm CDT
Related Tags