Darkest Hunters also on Nintendo Switch
Ultimate Games S.A. is releasing on Nintendo Switch the game Darkest Hunters, which combines logic-tactical and RPG elements. Players can count on lots of opportunities for developing their character and even several hours of varied challenges. The digital distribution (Nintendo eShop) release date is set for April 29 (United States, Canada, Mexico) and May 2 (Europe, Australia, New Zealand). Earlier the game was released for PC.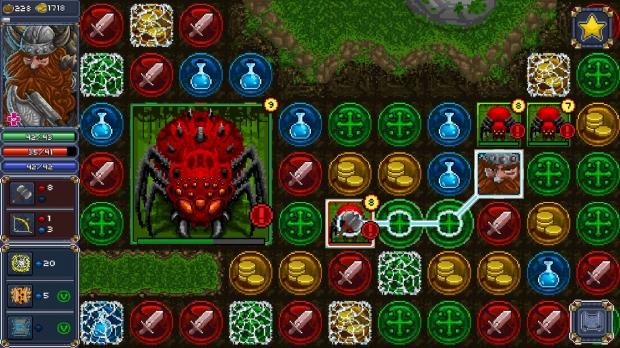 A team of several people at ECC Games are responsible for the creation of Darkest Hunters. In September 2017, this title connecting logic-tactical, puzzle and RPG elements appeared on the Steam platform. Ultimate Games S.A. is the publisher of the PC version and conversion to Nintendo Switch.
This game by ECC Games offers a total of 5 different lands where several missions in each of them are waiting for the player (e.g. elimination of a particular target or the completion of a level during a limited number of turns), including fights against bosses. At the same time, there are several different characters to choose from, which you can develop as the game progresses. The collected experience points translate into health, attack and magic points. Your equipment (including weapons and elements of armor) also play an important role.
The collection of appropriate crystals in long strings is crucial in Darkest Hunters, which allows you to quickly replenish health/attack/magic points as well as create special crystals that trigger a "chain reaction" which is beneficial for the player.
"Darkest Hunters is a logic-tactical game featuring simple control. Mastering the basic principles takes a few moments, but the game offers a lot of interesting tactical possibilities. In order to succeed, the tactics must often be adapted to the type of enemy" says the CEO of Ultimate Games S.A., Mateusz Zawadzki.
As Mateusz Zawadzki explains, the game Darkest Hunters is very dynamic, and on average completing one level takes a few minutes. Completing the game 100% requires a total of even several dozen hours.
Main features of Darkest Hunters:
dynamic gameplay;

5 lands and several dozen missions;

logical-tactical challenges;

pixel art graphics;

simple and intuitive control;

several characters to choose from;

over 250 different items;
The launch date for Darkest Hunters on Nintendo Switch is set for April 29 (United States, Canada, Mexico) and May 2 (Europe, Australia, New Zealand).
Darkest Hunters (Nintendo eShop): https://www.nintendo.com/games/detail/darkest-hunter-switch
Darkest Hunters (Steam): http://store.steampowered.com/app/654300/Darkest_Hunters/
Darkest Hunters Trailer:
Basic information:
Title: Darkest Hunters
Genre: logical, tactical, adventure, recreation, independent, RPG
Producer: ECC GAMES
Publisher: Ultimate Games S.A.
Language: English, Polish
Launch date: May 2, 2019 (Nintendo Switch - Europe, Australia, New Zealand), April 29, 2019 (Nintendo Switch - United States, Canada Mexico), Sept. 27, 2017 (Steam)
Related Tags