Bunnies and eggs in a War Game...seriously?
Ljubljana, Apr 17, 2019 - Gamex studio has prepared a fun egg-citing event coming to War Clicks just before the Easter (Apr 18-Apr 22).... A special Easter Egg Hunt Event is here and its crazy mission is just asking for completion. Do you have the will and the power to accomplish it?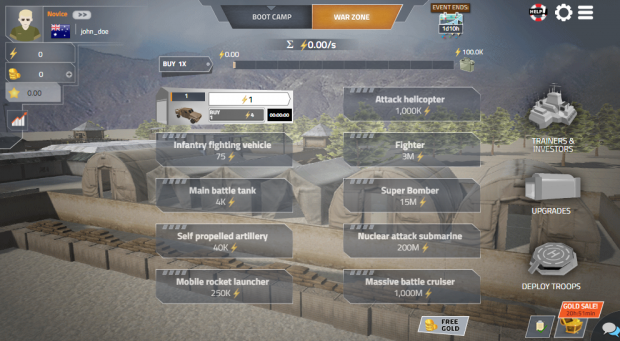 Easter Event that you wish would never end... Hmmm...Want to know more!?
Easter bunny and his crew are waiting for players to take over and command them while hiding eggs. Will you help their mission goal come true?
The Easter pals will be hiding eggs in countries worldwide. This unique Game event starts by hiding eggs in less-populated countries, and works their way towards the most populated countries with the goal of bringing egg-citement to the whole world! As the players work their way up the countries, more and more kids will be searching for the hidden eggs.
Kids nowadays are way smarter with all their telephones and apps helping them find the eggs faster, giving the Easter pals a tough task of being able to hide more eggs than the kids can find to keep spreading the egg-citement. The egg-citement can only spread when the kids have enough eggs to search for. But as soon as they find all the hidden places you will have to invest in education and smart-solution systems, so that Easter Pals will improve, get faster and more efficient in hiding eggs. So that they can keep egg-citing the world further!
In this event players will need to manage the powers of Egg Producers (the backbone of Easter Bunny's plan to global egg-citement), which are hidden by the Easter Pals, but can also be sold for cash to upgrade the powers and production rates so they can speed up the rate of egg-citing the countries.
Easter Pals are hardworking and motivated, but they're not silly and won't waste their time if they don't have any eggs to hide. So players need to increase the Egg production and sell off the excess for cash! With the extra cash, they will be able to buy more Egg Producer Units, extending Easter Pal's and buy upgrades. So, invest in upgrading egg production capabilities and conduct research on making your eggs worth more!
More knowledge + eggs produced = a higher market value and more cash generated for your egg-citing goals!
Wait, there is more!
Whenever you feel the kids are finding the eggs to fast for your Easter Pals to keep up, you can use the "Chicken Out" feature. You'll start from scratch, but with huge boosts and get back much stronger and clever to able to egg-cite even more countries!
You are not alone...
Easter Egg Hunt Event on War Clicks is a competitive Event, where players can focus on the competition rankings and getting great boosts/rewards & badges, but it is also perfectly playable as a single-mode - just for some great afternoon fun!
Although every player is included in the Event competition, only the best strategists and commanders will end up on TOP.
The Egg Hunt Event will be running on War Clicks starting on April 18th (14:00 GMT) and will last for 5 days, ending on April 22nd (14:00 GMT).
Play War Clicks game (+Egg Hunt Event) on :
Official site

Kongregate

Armor Games
What others say about War Clicks?
''WarClicks is one of the most popular military clicker games available and it is easy to see why!'' - CrazyGames.com
''Despite its simple design War Clicks manages to be highly addictive with the addition of competitive rankings that translate into long term benefits''- GamesLikeFinder.com
''War Clicks is a groundbreaking idle clicking game that definitely takes the genre to a whole new level.'' - Gamestough.com
PRICING: You can find products similar to this one for sale below.

United States: Find other tech and computer products like this over at Amazon.com

United Kingdom: Find other tech and computer products like this over at Amazon.co.uk

Australia: Find other tech and computer products like this over at Amazon.com.au

Canada: Find other tech and computer products like this over at Amazon.ca

Deutschland: Finde andere Technik- und Computerprodukte wie dieses auf Amazon.de
Related Tags