April 17, 2019: Throwing down ridiculous, posterizing dunks. Passing off the glass. Behind the back passes. When he's on the court, Dennis Smith Jr. has a cooler than cool attitude and rocks the rim with commanding authority.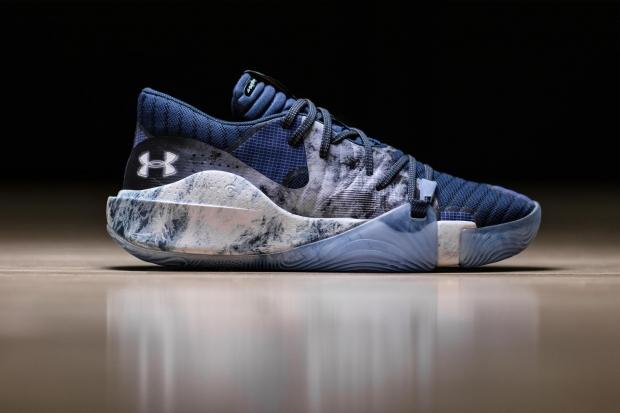 On April 26, Dennis and Under Armour Basketball will release a limited-edition colorway of the UA Anatomix Spawn inspired by his lethal style of play, and his favorite Mortal Kombat character, Sub-Zero. As Mortal Kombat returns on April 23 with the latest installment in the iconic series, Dennis is bringing Mortal Kombat 11 to life on court with an ice cold design - the UA Anatomix Spawn MK 11 Sub-Zero colorway.
"When I'm playing, I imagine myself as Sub-Zero on the court, ice cold and always ready to compete. This custom colorway of the UA Anatomix Spawn brings my love for Mortal Kombat and Sub-Zero to life, and I'm excited to share it with players who also share my same gaming passion." - Dennis Smith Jr.
The UA Anatomix Spawn MK11 Sub-Zero colorway features a navy and blue upper - a nod to Sub-Zero's armored vest - with frozen detailing throughout the upper, lace keeper and translucent icy sole. Mortal Kombat logo hits are on the shoe's insole, tongue tab and aglets. The Under Armour logo was given a frost outline to pay tribute to Sub-Zero's ability to deliver the most bone-chilling fatalities in an instant, the same way Dennis leaves opponents frozen as he jumps out of the gym for a monster slam.
The UA Anatomix Spawn has a legacy as one of Under Armour's first basketball shoes, and returned in 2019 to once again break the mold for players on and off the court. Mortal Kombat also has an incredible history and, like the UA Anatomix Spawn, has never been afraid to push boundaries and stand out stylistically.
"Being a basketball fan myself, it's exciting to partner with Under Armour and Dennis Smith Jr. for the limited-edition MK11 UA Spawn colorway. We have an amazing community so it's great working with such a well-known brand to bring this Sub-Zero themed sneaker to Mortal Kombat fans." - Ed Boon, Creative Director, NetherRealm Studios and Co-Creator of Mortal Kombat
The UA Anatomix Spawn MK11 Sub-Zero colorway is licensed by Warner Bros. Consumer Products and will be available for purchase in limited quantities on UA.com on April 26. Under Armour and Warner Bros. Interactive Entertainment will also host a pop-up experience for fans at BAIT in Los Angeles on April 24 at 7 pm PST. Stay tuned to @UANews and @MortalKombat for more details on the pop up to be announced soon.
The announcement may be found on the official Under Armour website here.