Funcom releases Treasures of Turan DLC and Season Pass for Conan Exiles
OSLO, Norway - April 15th, 2019 - The riches of the eastern kingdom of Turan have arrived in Conan Exiles, Funcom's open world survival game set in the brutal world of Conan the Barbarian. Available now on PC and PlayStation 4, and releasing soon on Xbox One, the new DLC introduces the opulent gilded palaces of Turanian culture to the savage Exiled Lands.
In addition to more building styles, players will also find new armors and weapons, new warpaints, new placeables such as glittering statues and standing lamps, and two new pack animal pets: the richly adorned caravan Rhino and elephant.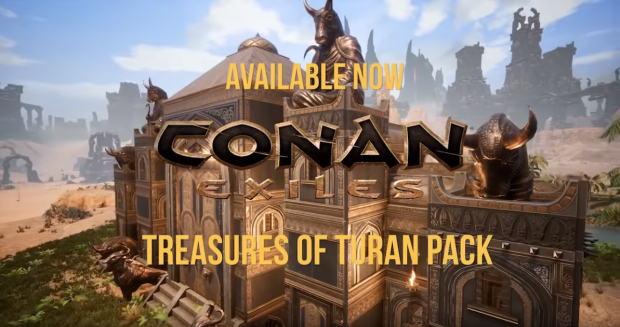 A new trailer for the Treasures of Turan DLC was also released today, showing off all the new content. For more information about the new DLC, head over to the official Conan Exiles blog.
Funcom today also launched a Season Pass for Conan Exiles, promising four core DLCs to come in 2019. This includes the now available Treasures of Turan plus three more DLCs to be released throughout the year: Riders of Hyboria, Blood and Sand, and Mysteries of Acheron. The Season Pass is now available for purchase on PC and PlayStation 4, with Xbox One to follow soon.
Since releasing into Early Access in January 2017, Conan Exiles has grown in significantly in scope. Two entirely new landmasses have been added, the frozen north and the eastern jungle, and dozens of updates have been released introducing new content and features including climbing, a new combat system, farming, traps, new dungeons, and much more. Today, Conan Exiles is one of the most elaborate games in its genre and the development team continues to put out new updates and DLCs.
Conan Exiles is available on PC, Xbox One, and PlayStation 4.
ABOUT FUNCOM - Funcom is an independent developer and publisher of online games for PC and consoles. Funcom has provided outstanding entertainment since 1993 and continues to expand its track-record of more than twenty released games. Titles include 'Conan Exiles', 'Secret World Legends, 'Age of Conan: Hyborian Adventures', 'The Longest Journey', 'Anarchy Online', 'The Park', and 'Dreamfall: The Longest Journey'. For corporate information please visit www.funcom.com.
For information about Funcom games visit www.conanexiles.com, www.secretworldlegends.com, www.anarchy-online.com, www.dreamfall.com, www.theparkgame.com, www.conanexiles.com, or www.ageofconan.com. Funcom is listed on the Oslo Stock Exchange under the ticker FUNCOM.
ABOUT CABINET - The Cabinet group consists of Cabinet Entertainment, a tv/film financing and production company, as well as Cabinet Licensing, a consumer products division which manages and develops global entertainment franchises in all forms of media, including motion picture, television, and the gaming, publishing and toy/collectibles industries. Our portfolio consists of well-known brands such as Conan the Barbarian, Kull of Atlantis, Solomon Kane, Mutant Chronicles, Mutant: Year Zero, and Kult.
PRICING: You can find products similar to this one for sale below.

United States: Find other tech and computer products like this over at Amazon.com

United Kingdom: Find other tech and computer products like this over at Amazon.co.uk

Australia: Find other tech and computer products like this over at Amazon.com.au

Canada: Find other tech and computer products like this over at Amazon.ca

Deutschland: Finde andere Technik- und Computerprodukte wie dieses auf Amazon.de
Related Tags