KING Art Games chooses Deep Silver as worldwide Publishing-Partner
Planegg, Munich, 9th April 2019 - KING Art Games and Deep Silver a 100% subsidiary of Koch Media have signed an wide-ranging publishing agreement for the upcoming Real Time Strategy (RTS) game Iron Harvest. The already critically acclaimed title is currently being developed by the Germany based independent developer KING Art Games for PlayStation 4, the Xbox One family of devices including the Xbox One X as well as PC. In coordination with KING Art Games Deep Silver will cover marketing, distribution and production worldwide.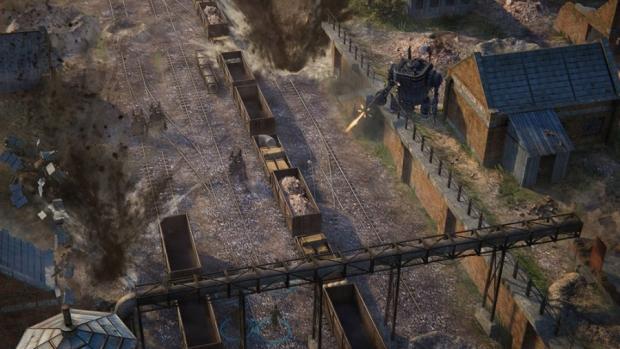 Jan Theysen, Creative Director at KING Art said: "We are delighted to be able to work with the experienced team at Deep Silver. With the releases of Kingdom Come: Deliverance and Metro Exodus Deep Silver proved that they understand European games and are able to successfully promote them worldwide. Iron Harvest is our biggest project so far and we are aware that many RTS-fans have been eagerly waiting for it. Alongside the team at Deep Silver we work to create an amazing game and to fulfil our incredibly supportive community's expectations "
Dr. Klemens Kundratitz, CEO Koch Media said: "We are happy to welcome the German Studio KING Art as new partner. The team's experience, their past titles e.g. The Dwarves with their amazing feedback within the gaming community and the high quality of their work as a studio confirm the trust we have in this cooperation. This is underlined by the great support the team at KING Art is receiving from their fans. Our global publishing teams are looking forward to this exciting new project and are ready to support the development and the game's global launch with our local, tailor made publishing campaigns."
About Iron Harvest:
At the dawn of the 20th century, shortly after the end of the Great War, the world is full of secrets and mysteries, of opportunities and challenges. Tradition clashes with scientific and technological progress, while Europe is still recovering from the brutal battles of the World War. Iron Harvest is a real-time strategy game (RTS) set in the alternate reality of 1920+, just after the end of the Great War. To create the perfect RTS-experience the team has been working in close cooperation with global RTS-fans ever since the highly successful kickstarter campaign.
About King Art Games:
KING Art is an independent game developer with years of experience in creating high-quality games for all major platforms. More than 40 employees across several teams are located at the offices in Bremen, Germany and work with about as many freelancers around the globe. Founded in 2000, KING Art has since released more than 50 titles in different genres, with a focus on narrative games, RPGs and strategy games. The company and its games have received multiple prestigious awards, including Best Strategy Game and Best Development Studio.
KING Art is a licensed developer for Microsoft, Sony and Nintendo plattforms and member of Verband der deutschen Games-Branche (GAME) and bremen digitalmedia.
About Deep Silver:
Deep Silver develops and distributes interactive games for all platforms. The Deep Silver label means to captivate all gamers who have a passion for thrilling gameplay in exciting game worlds. Deep Silver works with its partners to achieve a maximum of success while maintaining the highest possible quality, always focusing on what the customer desires.
Deep Silver has published more than 200 games since 2003, including its own brands like the open world extravaganza Saints Row, the zombie action franchise Dead Island, and the grim post-apocalyptic future of the Metro series. Upcoming highlights from Deep Silver include Dead Island 2. Deep Silver also owns the development studios Deep Silver Dambuster Studios in Nottingham, UK; Deep Silver Fishlabs in Hamburg, Germany, Deep Silver Volition based in Champaign, IL, USA, and Warhorse Studios based in Prague, Czech Republic. For more information please visit www.deepsilver.com
Koch Media is a leading producer and distributor of digital entertainment products (games, films and software). The company's own publishing activities, marketing and distribution extend throughout Europe, North America and Australia. The Koch Media group has more than 20 years of experience in the digital media business, and has risen to become the number one publishing partner in Europe. It has also formed strategic alliances with numerous games and software publishers: Bethesda, Capcom, Codemasters, Kaspersky Labs, Konami, Koei Tecmo, Milestone, Sega, Square Enix, etc. in various European countries. With Headquarter in Hafen, Austria Koch Media owns branches in Germany, England, France, Austria, Switzerland, Italy, Spain, the Nordic regions, Benelux, Australia, Czech Republic and the United States.
All product titles, publisher names, trademarks, artwork and associated imagery are trademarks, registered trademarks and/or copyright material of the respective owners. All rights reserved.
PRICING: You can find products similar to this one for sale below.

United States: Find other tech and computer products like this over at Amazon.com

United Kingdom: Find other tech and computer products like this over at Amazon.co.uk

Australia: Find other tech and computer products like this over at Amazon.com.au

Canada: Find other tech and computer products like this over at Amazon.ca

Deutschland: Finde andere Technik- und Computerprodukte wie dieses auf Amazon.de
Related Tags