San Sebastian de los Reyes, Spain - March 25th, 2019 - Independent development studio MercurySteam revealed today the first images of Sooma, a brand-new playable character for Spacelords interpreted by Dutch actress and model Stefanie Joosten. This new character will be available in Q2 2019.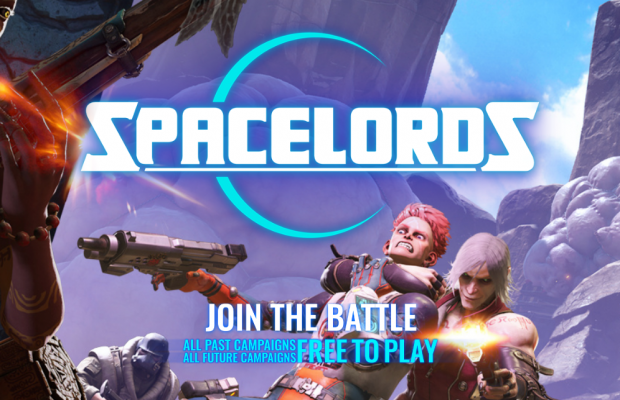 Working in conjunction with MercurySteam's artists and animators, Joosten has lent her image and voice talents to play the role of Sooma, a member of the Umbra Wardogs faction, born in the Cydonia region, on distant Mars, as part of a seclusive cult devoted to helping those who suffer pain and oppression.
"Sooma is a truly interesting character to play with," said Stefanie Joosten. "She can absorb the damage suffered by her allies, but that power comes with a price for her to pay. It is really exciting seeing my character coming to life, and can't wait for Sooma to be released!"
Spacelords is now available as a Free to Play gaming experience for PlayStation 4, Xbox One, Steam and Windows 10. Sooma, the new character played by Stefanie Joosten, will arrive in Q2 2019. For more information, visit Spacelords' website: www.spacelordsthegame.com.
About Spacelords:
An incredible discovery on one of Saturn's moons leads a force of humans to the Broken Planet on the far reaches of the Universe. A source of energy called Aleph exists there that grants ultimate power to whoever controls it...
However, the human forces split into factions and fight amongst themselves for dominion over the Aleph. The peaceful inhabitants of the planet are caught in the crossfire, but a hero emerges amongst them who hopes to lead his people to freedom...
Using nefarious means and exploiting the disunity amongst the human ranks, Harec recruits a rag tag group of rogues, outlaws and hired guns from the various factions and pits them against those who would destroy his people...
Spacelords is a brand-new take on the shooter genre. Through its Free to Play, 4 vs 1 counter-operative campaign, you experience both sides of the story: Join the Raiders in their fight to free the legendary Broken Planet or become The Antagonist: Switch sides and fight the Raiders on your own alongside the invading hordes!
About MercurySteam:
MercurySteam is the award-winning independent development studio behind the multi-million selling Castlevania: Lords of Shadow series and the critically acclaimed Metroid: Samus Returns. Their latest title is their first self-published game, Spacelords. Based in Madrid, Spain - MercurySteam's mission is to create the best possible game experiences in partnership with players around the world.