FREMONT, CA - March 14th, 2019 - VIPER GAMING, delivering elite performance memory, SSD's, and award-winning peripherals to gamers worldwide has announced that they will be attending PAX EAST 2019, one of the biggest global LAN Party and gaming conventions. VIPER GAMING will showcase a range of gaming product demos, including the latest gaming keyboards, mice, SSDs and more, as well as onsite booth activities and giveaways. Most importantly, a gaming tournament will be run at the booth along with incredible prizes for the winners.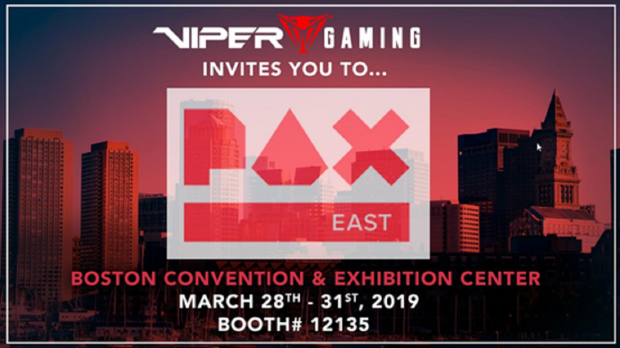 PAX East 2019 will take place Thursday, March 28 through Sunday, March 31 at the Boston Convention and Exhibition Center. VIPER GAMING products will be demonstrated at booth #12135. "It would be our pleasure to extend a cheerful welcome to all gamers and media! Our gaming products are available to try out and be given away." Said Roger Shinmoto, the Vice President of PATRIOT MEMORY.
VIPER GAMING PAX EAST 2019 booth activities include:
Gaming tournament

Giveaway raffle

A complimentary swag bag for the first 100 visitors each day

Gaming gear for purchase (limited quantities at a special discounted price)

An online giveaway including TWO full set of keyboard, mouse, headset, and USB headset stand
Meetings are available for appointments and can be arranged through Andrew Ouyang on behalf of PATRIOT at andrewouyang(at)ideecreatives.com
Details about products from PATRIOT and VIPER GAMING can be found at https://www.patriotmemory.com/
About PAX EAST:
PAX (originally known as Penny Arcade Expo) is a series of gaming conventions that involve tabletop gaming, arcade gaming, and video gaming. PAX events are held annually in Seattle, Washington; Boston, Massachusetts; Philadelphia, Pennsylvania; San Antonio, Texas; and Melbourne, Australia. PAX was originally created by Jerry Holkins and Mike Krahulik, the authors of the Penny Arcade webcomic, because they wanted to attend a show exclusively for gaming. PAX was first held in 2004. Activities of the event include an opening keynote speech from an industry insider, game-culture inspired concerts, panels on gaming topics, exhibitor booths from both independent and major game developers and publishers, a LAN party multiplayer, tabletop gaming tournaments, and video game free play areas. Every PAX also features the Omegathon, an event-long tournament consisting of a group of randomly selected attendees competing for a grand prize. The final round of the Omegathon makes up part of the closing ceremonies of PAX.
About VIPER GAMING:
VIPER GAMING is a Trademarked Brand of PATRIOT MEMORY, a global leader in performance memory, SSD's and flash storage solutions. Established in 2007 with the unveiling of the well-known, top-tier line of computer memory. Since then, the VIPER GAMING has become synonymous with elite performance and reliability among gamers worldwide.
In 2015, VIPER GAMING decided to expand its product categories to include gaming keyboards, headsets and mice. Offering entry, mid-level and high-end solutions with rich feature sets, VIPER GAMING award-winning peripherals provide gamers everywhere the best price-for-performance and reliability that enables gamers to dominate in their sport.
Follow us :
Facebook: https://www.Facebook.com/vipergamingpatriot
Twitter: https://twitter.com/patriot_viper
Instagram: https://www.instagram.com/patriot_viper
YouTube: https://www.YouTube.com/patriotviper