Nuremburg, Germany and Shenzhen, China, 27th February 2019 - Giada, the number one media player brand in the German-speaking region in 2018, showcased the star products of its semi-outdoor series, including the ISC-261, AE67 and AP23, at Booth 2-638 during Embedded World 2019 in Nuremberg.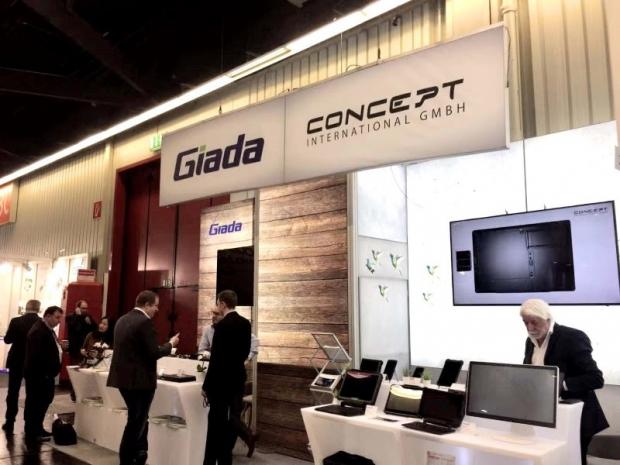 Embedded World, the leading international fair for embedded systems, attracted more than 1,000 exhibitors from 52 countries and more than 32,000 trade visitors from 77 countries.
Today in manufacturing and production, linking information across all corporate levels increases the demands placed on computing power. As the industry automation develops, industrial PCs for process control and/or data acquisition are in larger demand. Giada has developed its industrial PCs series, which can work for a long time in demanding environments. These compact solutions can offer customers high performance in a small space. They are rugged and designed for an extended temperature range, allowing them to be installed directly in the control cabinet - the ideal solution for process and machine-level data processing or visualization.
Kiosks are a key element in the digital transformation of merchants and manufacturing. People are increasing accustomed using kiosks while shopping, communicating, receiving financial service and operating machines. Many of these kiosks are in outdoor or semi-outdoor environments, where they may have to withstand extreme temperatures. To better support these kiosks in outdoor or semi-out door applications, Giada has made great efforts to design new industrial PC and pico boards which combine extended temperature tolerance, high performance and a rich variety of I/O ports.
Meanwhile, industrial PCs and motherboards are being adopted in more commercial applications, such as control panels with displays in elevators showing various advertisements. Giada's semi-industrial players with their slim, fanless design can support such applications well.
Newly-released palm-sized IPC
ISC-261, a newly-released industrial control PC, is a sturdy option for demanding retail digital signage - both outdoor and semi-outdoor. Available in two configurations, with Intel Celeron N3350 for maximum performance, or Intel Atom x5-E3930 designed for extended operating ranges, the ISC-261 excels through its high-efficiency processing and rugged design aimed at industrial use. The Celeron N3350 powered ISC-261 is optimized for performance in regulated environments with an operator, while the Atom x5-E3930 powered version is certified for use in -20C to 60C (approximately -4 to 140F) environments, ideal for remote locations and situations where minimum human interaction is required or possible.
To learn more about the ISC-261, please refer to http://www.giadatech.com/index/product/detail/aid/619.html
High-end fanless industrial player
The AE67-W1 is a high-end, fanless PC for 24/7 outdoor use. Powered by a 7th generation Intel Core processor, it is able to deliver smooth content to any of its connected 4K displays. The AE67-W1 features a modular option design and is capable of fanless operation in both freezing cold (-20C/-4F) and blistering heat (60C/140F).
With numerous I/O ports (4x RS232, 2x RS485, 4x USB 3.0, and 4x USB 2.0) virtually any device currently used in retail and signage can be operated by the AE67-W1. With a Gigabit Ethernet controller onboard (Intel i219), SIM card slot, optional 3G/4G (Mini-PCIe) or WIFI (M.2 2230) modules, connecting to the cloud or local network is quick and easy.
To learn more about the AE67, please refer to: http://www.giadatech.com/index/product/detail/aid/539.html
Pico-size Apollo Lake industrial control board
As e-commerce is booming these years, people rely more and more on online shopping. Consequently, an increasing number of intelligent express delivery cabinets are installed in neighborhoods. Many of these cabinets are placed in semi-outdoor environments. AP23, a Pico-sized industrial control board which powers the ISC-261, is an ideal choice for smart express cabinets solutions.
The new 100mm x 72mm motherboards, which include two models: the AP23-E3930 and AP23-N3350, offer ideal indoor and outdoor support for industrial, retail and digital signage solutions. Especially notable is the AP23-E3930, which can operate under an extremely wide operating temperature range of -20 C to 60 C (approximately -4 F to 140 F), with appropriate airflow.
To find out more about the AP23, please refer to http://www.giadatech.com/index/product/detail/aid/499.html
More industrial products to come
Giada, which is focusing on new retail, industrial automation, smart education, and health-care enterprises and public services, will release more industrial computing products in 2019, including IBC361 and IBC381. IBC361, a 3.5-inch industrial control board, adopts Intel Celeron J1900 / Intel Atom E3825 / E3845 processors. The release of these products will enable Giada to provide more solutions for industrial automation applications.
About Giada
Giada, a premium brand of Shenzhen JEHE Technology Development Co., Ltd. (JEHE), is committed to becoming an innovative and globally leading provider of products and solutions in cloud computing, big data, and IoT. Giada is dedicated to promoting the development of the global IoT (Internet of Things) and AI industry, focusing on new retail, smart education, health-care, enterprise, public services and industrial automation technology. Giada, ranking top 1 media player supplier in the German-speaking region, is a core partner of Intel in China, and an Associate Member of Intel ISA (IoT Solution Alliance) www.giadatech.com.
Last updated: Apr 7, 2020 at 12:12 pm CDT