Become a Bug in First-Person Puzzle Platformer Metamorphosis, coming to PC, PlayStation 4, Xbox One, and Switch in 2019
Mar 4, 2019 10:24 PM CST
Warsaw, Poland - February 27th, 2019 - Ovid Works is proud to reveal that Metamorphosis, a first-person puzzle platformer about a man mysteriously transformed into a little bug, will launch in Fall 2019 on PlayStation 4, Xbox One, Nintendo Switch, and PC.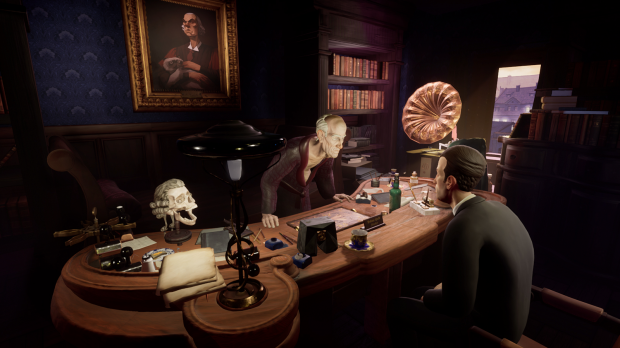 Inspired by Franz Kafka's seminal short story The Metamorphosis, Ovid Works' video game reimagines salesman Gregor Samsa as he turns into a tiny bug and embarks on a quest to save himself and his friend Joseph, who has been arrested for reasons unknown. Inconveniently, Joseph can't recognize your new arthropodal body.
To rescue Joseph and uncover the truth behind your metamorphosis, you must go on a perilous journey through a strange world which, like yourself, has turned twisted and unfamiliar. What once seemed like mundane dwellings has become an expansive obstacle course. You'll have to leap, climb, and chart your path by using your newfound abilities to navigate the dingy nooks and crannies that exist within the cracks of civilization. Use your wits to unravel the truth and return to the life you once knew.
"We're all big fans of Kafka here at Ovid Works, and we wanted to pay tribute to his strange, haunting, darkly comic worlds by envisioning them as a video game," said Zaq Chojecki, Game Director at Ovid Works. "That said, we didn't want to make this a straight adaptation, as video games are a completely different medium. I think Kafka fans and newcomers alike will find plenty of surprises in store as they delve deep into the world of Metamorphosis."
"Metamorphosis combines the first-person traversal puzzles of something like Portal with the philosophical existential musings of early 20th century literature," said Jacek Debowski, CEO at Ovid Works. "It's really unlike anything else out there!"
Featuring:
First-person perspective from a bug makes you see the world in a whole new light

Challenging environmental puzzles that have you searching for clues, creating diversions, and overcoming obstacles

Rewarding exploration featuring unique movement mechanics that make full use of your tiny body and sticky limbs

A surreal story that players can influence, inspired by the curious imagination of Franz Kafka

Eccentric, colorful characters spanning the world of both humans and insects

A hand painted world that adds a layer of the fantastical to even the grittiest environments
Metamorphosis Steam page: https://store.steampowered.com/app/1025410/Metamorphosis/
Metamorphosis webpage: www.metamorphosisgame.com
Ovid Works Twitter: https://twitter.com/ovidworks
PRICING: You can find products similar to this one for sale below.

United States: Find other tech and computer products like this over at Amazon.com

United Kingdom: Find other tech and computer products like this over at Amazon.co.uk

Australia: Find other tech and computer products like this over at Amazon.com.au

Canada: Find other tech and computer products like this over at Amazon.ca

Deutschland: Finde andere Technik- und Computerprodukte wie dieses auf Amazon.de
Related Tags