Linden, 31 January 2019 - Sharkoon Technologies is an international supplier of PC components and peripherals which boasts performance at a reasonable price. Sharkoon introduces their new ATX midi tower series: VG6-W. This PC case series is designed for budget-conscious users with air-cooled systems. The VG6-W is equipped with either three single-color illuminated LED fans or three RGB illuminated fans as well as a striking exterior plus acrylic front and side windows.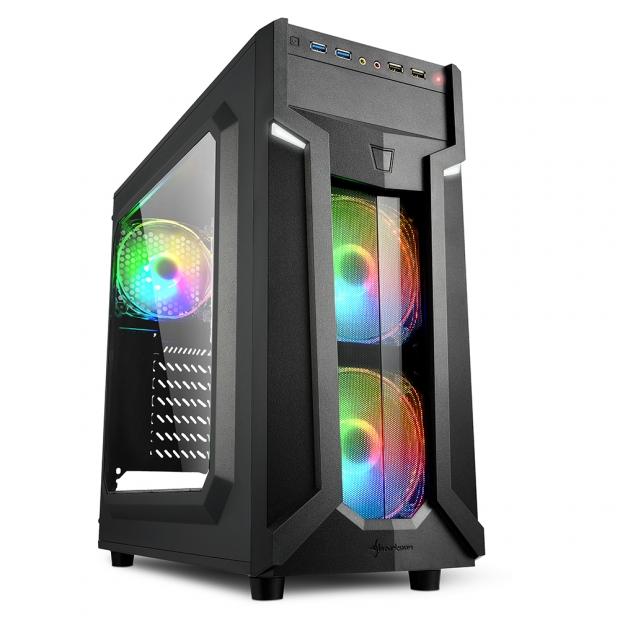 Conspicuous Looks:
The front panel of the VG6-W should especially appeal to gamers, which gives the case a unique retro-futuristic finish. The eye-like LEDs above on the front panel lend an expressive character. The angular acrylic window underneath brings the pre-installed LED fans to the fore.
Hardware on Show:
The side panel of the Sharkoon VG6-W has a large acrylic window to present the built-in components of the system. All possible modifications inside the case can be optimally presented.
Compact Inside:
This ATX midi tower may, at first, appear to be quite compact; but here, hardware compatibility does not have to be compromised. The interior easily incorporates mainboards up to the ATX standard, and up to four SSDs, up to three HDDs and an optical drive (5.25").
Optimal Airflow - Pre-Installed:
The VG6-W comes already equipped with three 120 millimeter case fans: two at the front and one at the back. The PC case is available in four different versions: Three versions feature single-color illuminated fans with either red, green or blue lighting. Another version has illuminated fans with RGB functionality. These RGB fans each have nine addressable LEDs which can be connected to the mainboard (pin configuration 5V-D-coded-G or 5V-D-G). If the mainboard does not provide compatible lighting control, the reset switch can be used to select a total of 14 lighting effects.
Price and Availability:
The Sharkoon VG6-W Red, Green and Blue versions are now available for the suggested retail price of 44.90 Euros. The suggested retail price for the VG6-W RGB version is 54.90 Euros.
VG6-W - photos:http://en.sharkoon.com/product//VG6W#gallery
VG6-W RGB - HD photos:http://en.sharkoon.com/product/26814
Zip-File to download photos:http://en.sharkoon.com/Download/Cases_and_Power/Midi_ATX/VG6-W/RGB/gallery_VG6_W_RGB.ziphttp://en.sharkoon.com/Download/Cases_and_Power/Midi_ATX/VG6-W/LED/gallery_VG6_W.zip
Premium content:http://en.sharkoon.com/Download/Cases_and_Power/Midi_ATX/VG6-W/Premium%20Content/prem_VG6_en_02.pdf
YouTube video:
Addition info:
VG6-Whttp://en.sharkoon.com/product//VG6W
VG6-W RGBhttp://en.sharkoon.com/product/26814