MSI announces custom GeForce RTX 2070 series
Oct 12, 2018 1:05 AM CDT
[Taipei, Taiwan] As the world's most popular GAMING graphics card vendor, MSI is proud to introduce its full line up of graphics cards based on NVIDIA's new Turing GPU with supreme performance. Equipped with revolutionary thermal design, MSI GeForce RTX 2070 series are optimized for higher core and memory clock speeds for increased performance in games. MSI's GAMING Z and DUKE series deliver the best-in-class thermal performance that gamers have come to expect from MSI. A solid and sharp appearance, ARMOR provides a sturdy dual fan design with excellent performance. The blower type thermal design of AERO isolates the airflow used in cooling the graphics card and ejects it out of the system through the back.
GEFORCE RTX 2070 GAMING Z
MSI brings GAMING to RTX 2070 with the 7th generation of the iconic TWIN FROZR series. The improved TWIN FROZR 7 design on the GeForce RTX 2070 GAMING Z utilizes two 10cm TORX 3.0 fans which combines the advantages of both traditional and dispersion fan blade to generate huge amounts of airflow. The new trims on the traditional fan blades create concentrated airflow for higher air pressure while also reducing noise. The heat sink features advanced aero- and thermodynamic technologies for efficient heat dissipation to keep the temperature low and performance high. The new gunmetal grey & black look emphasizes the glorious glow of Mystic Light RGB infused into the card. Using the updated & improved MSI Mystic Light software, controlling and syncing your LED-lit components is easier than ever.
GEFORCE RTX 2070 DUKE 8G OC
With a large triple-fan cooling solution, DUKE is perfect for gamers that prioritize a massive airflow to keep their beastly card cool. It features three of the award-winning TORX Fan 2.0 with double ball bearings, providing years of top-notch cooling performance. Featuring some of the same aero- and thermodynamic advancements as the GAMING cards, DUKE provides excellent cooling to ensure peak performance.
GEFORCE RTX 2070 ARMOR 8G OC
The MSI GeForce RTX 2070 ARMOR 8G OC builds on the reputation for solid thermal performance with a dual-fan thermal design. Taking the concept to a whole new level, the new ARMOR design adds a bit of heavy metal flair into the mix. The new ARMOR 2X thermal design uses TORX Fan 2.0, providing more concentrated airflow and air pressure for enhanced cooling performance. The Nickel-plated Copper base with high-efficiency Heat pipes transfer more heat from the GPU quickly and efficiently. MSI's Zero Frozr technology stops the fans in low-load situations such as web browsing or light gaming to remain fully silent. New on ARMOR are the backplate and Mystic Light RGB LEDs, supported by MSI's exclusive Mystic Light software to customize your RGB settings from millions of colors.
GEFORCE RTX 2070 AERO
Sporting a sleek black & carbon look with subtle green accents, the MSI GeForce RTX 2070 AERO 8G will look great in any build. The new AERO graphics cards it feature a thermal design built around a blower fan which pushes all the heated air out of the PC via a rear exhaust, making them perfect for cases with limited airflow or professional usage.
MSI DRAGON CENTER
MSI Dragon Center is a brand new software platform with the goal to integrate all MSI software for components, desktop systems and peripherals. For MSI GAMING & SEA HAWK graphics cards, the MSI Dragon Center allows gamers to quickly switch between OC and Silent performance modes. The all-new software features Gaming Mode, which instantly optimizes your hardware for the best gaming experience including SSD, monitor and network settings. This budding new software platform will continue to improve and evolve, including more unique functionalities and benefits for MSI gamers.
AVAILABILITY
The new MSI GeForce RTX 2070-based cards are expected to be available starting 17th November, 2018. Model availability will vary per region.
SPECIFICATIONS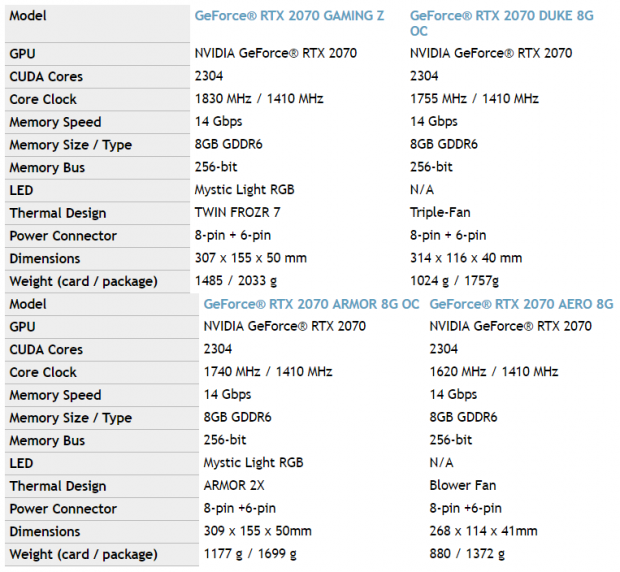 PRICING: You can find products similar to this one for sale below.

United States: Find other tech and computer products like this over at Amazon.com

United Kingdom: Find other tech and computer products like this over at Amazon.co.uk

Australia: Find other tech and computer products like this over at Amazon.com.au

Canada: Find other tech and computer products like this over at Amazon.ca

Deutschland: Finde andere Technik- und Computerprodukte wie dieses auf Amazon.de
Related Tags