London, United Kingdom, Oct. 1, 2018 - HP Inc. today unveiled the HP Spectre Folio, a stunning new device that sets a bold standard for premium PC innovation. HP set out to reinvent every aspect of the PC, from the materials used to build it to the experiences it can deliver. The result is a transformative form factor designed for true mobility and equipped to easily adapt to everyday use cases. The world's first leather convertible PC,[i] the Spectre Folio blends timeless craftsmanship with the latest technology to create a product unlike any other.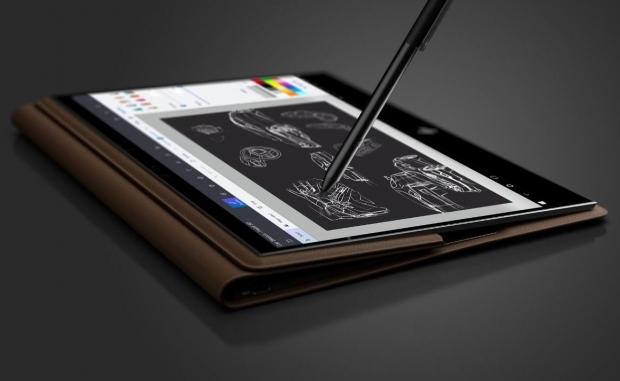 The Spectre Folio builds on the success of traditional laptops, 2-in-1 devices and convertibles, which are designed primarily for specific productivity tasks or scenarios. The result is unprecedented versatility in a PC that seamlessly converts between three distinct positions.
"The HP Spectre Folio is the PC reinvented, achieving the perfect balance of luxury design and cutting-edge engineering. It combines sophisticated style with incredible versatility to deliver an Always-Connected PC experience our customers are looking for," said Alex Cho, President, Personal Systems, HP Inc. "HP continues to create the world's most exciting devices that are leading the PC category into a new era of innovation. By listening to the needs of our customers and leveraging our design and engineering capabilities, HP is setting new benchmarks for the industry."
Exquisite Craftsmanship
To create the Spectre Folio, HP embraced the art of "manucrafturing," where meticulously designed hardware meets handcrafted materials. The 100 percent chromed tan, full-grain leather from which the device is made plays an important functional role.
It is a durable material that provides a natural hinge and flexible chassis to enable a breakthrough new form factor. At the same time, its timeless aesthetic appeal, with accented stitching and precision edging, creates a sophisticated, luxurious quality often associated with fashion but has never been seen in a PC. The Spectre Folio will be available in one colour initially - Cognac Brown.
Redefining Iconic PC Design with Masterful Engineering
The convertible PC is now easier to use with the Spectre Folio's simpler, seamless transitions to multiple positions. With one hand, the thin and light device moves effortlessly from a traditional laptop position typically used for productivity, to tent position that neatly tucks away the keyboard for sturdier support on the lap, to tablet position with a built-in tilt for intuitive inking - all made possible by strategically placed magnets and the unique flexibility of leather to act as a natural hinge.
To achieve a thin and light design in this radically new form factor, the Spectre Folio incorporates one of the smallest motherboards in the industry, capitalizing on an 8th Gen Intel Core i7 (Y-series) processor.[ii] Additionally, an innovative fanless thermal design leverages the unique qualities of leather to create an experience that feels both cool and comfortable in the lap. HP also worked closely with the renowned global audio and lifestyle brand Bang & Olufsen to expertly tune the four front facing speakers for a superb audio experience in any of the device positions.
Other features include up to 16 GB of memory, up to 2 TB of SSD storage[iii], and either a 300-nits FHD display or a low-power, 1W 400-nits FHD option for ideal viewing in any lighting condition. A 4K UHD display[iv] panel option will be available later this year.
Always-On, Always-Connected PC Experiences
The bold look of the Spectre Folio is matched with the latest premium technology features for consumers who desire beauty and power in their PC. Jetsetters and on-the-go professionals alike will appreciate HP's focus on achieving ultra-mobility and connected modern standby, with up to 18 hours of battery life[v].
The Spectre Folio is the world's first gigabit class LTE Intel based laptop[vi], providing an Always Connected PC experience that is more secure than traditional public Wi-Fi hot spots. The device also supports dual eSIM[vii], with an optional nano-SIM slot under the display and an optional embedded digital eSIM to easily and quickly connect to their cellular networks for blazing fast Internet and data. For customers activating the device on the Sprint network, Intel and Sprint are offering free unlimited data for six months with Autopay[viii].
Pricing and Availability[ix]
Pre-orders for the HP Spectre Folio will begin October 1, 2018, at HP.com.

The HP Spectre Folio is expected to be available in Cognac Brown with an Intel Core i7 processor and LTE connectivity at select Currys PC World retail locations and HP.com beginning end of October - at a starting price of ÃÆ',Ã,Ã,£1,499.

The HP Spectre Folio with the 4K panel option is expected to be available in late December.

The HP Spectre Folio Pouch and the HP Spectre Folio Sleeve are expected to be available at HP.com in November for ÃÆ',Ã,Ã,£39.99 and ÃÆ',Ã,Ã,£59.99 respectively.
Watch the product reveal live via YouTube or Facebook Live, and visit HP's Facebook page to see "Stories of Reinvention" from American fashion designer Alexander Wang, American R&B duo Chloe x Halle, Argentina-Spanish artist Felipe Pantone, and German designer Errolson Hugh. Share your reactions using the #thePCReinvented and #keepreinventing hashtags on social media.
Last updated: Apr 7, 2020 at 12:11 pm CDT