Award Winning Story Driven Viking RPG Series Now Available As Physical Boxed Edition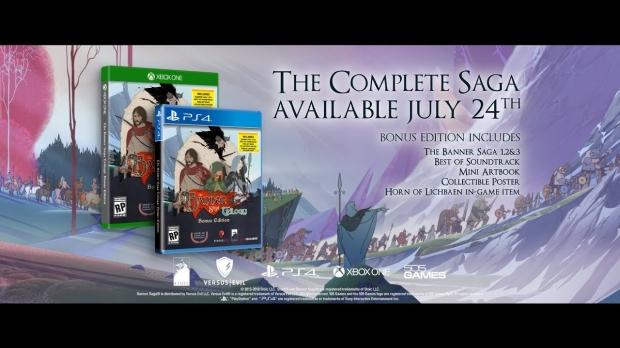 BALTIMORE, MD - September 28th, 2018- Versus Evil and Gearbox Publishing, two leading independent video game publishers, in partnership with Stoic, an independent game development company, announced the launch of the physical boxed edition of the award winning, BAFTA nominated role-playing strategy indie series on Nintendo Switch.The Banner Saga Trilogy Editionprovides Nintendo Switch players with the opportunity to own a physical version of the game and play the entire thrilling saga from start to finish.
"Launching a physical edition of the Banner Saga Trilogy for the Nintendo Switch with the Gearbox team is truly awesome". Said Steve Escalante, founder and GM of Versus Evil. "Fans of the Banner Saga franchise will be able to binge play the entire series from start to finish. This is the best time to get into one of the best Strategy franchises released in the last several years."
Players can drive their own narrative in theBanner Saga Trilogyon Nintendo Switch and can carry over the decisions made from theBanner Saga and Banner Saga 2, leading to different climatic endings in the third and final chapter of the series inBanner Saga 3. With a heart wrenching story guided by the complex and sometimes difficult choices they have made in the previous two games, Banner Saga 3 maintains the legacy created by the previous chapters and brings the epic Trilogy to a climatic end.
The Banner Saga Trilogyphysical edition, published by Gearbox publishing on Nintendo Switch, brings together all three games of an emotionally driven series that began in 2014 and has continued to enthrall its legion of fans with a mature story driven adventure beautifully crafted with its iconic hand painted visuals and challenging, strategic turn-based combat.
Available from 505 Games -The Banner Saga Trilogy: Bonus Edition - for both Xbox One and PlayStation 4physical retail edition is also available, priced at $39.99 / Ã,£29.99 / â,¬39.99.
To learn more about The Banner Saga visit: www.bannersaga.com
Last updated: Apr 7, 2020 at 12:11 pm CDT