CORSAIR, a world leader in PC components, high-performance gaming hardware and enthusiast memory, today announced a partnership with leading PC builder CYBERPOWERPC to create its new Crystal Gaming Series of performance desktop PCs. Powered by the latest Intel 8th Generation and X-Series Core i7 Processors, NVIDIA GeForce GTX 1070, 1080 or 1080 Ti graphics cards, and up to 32GB of CORSAIR VENGEANCE LPX DDR4 memory, every Crystal Gaming Series system provides outstanding gaming PC performance, surrounded by the best in CORSAIR hardware and RGB lighting.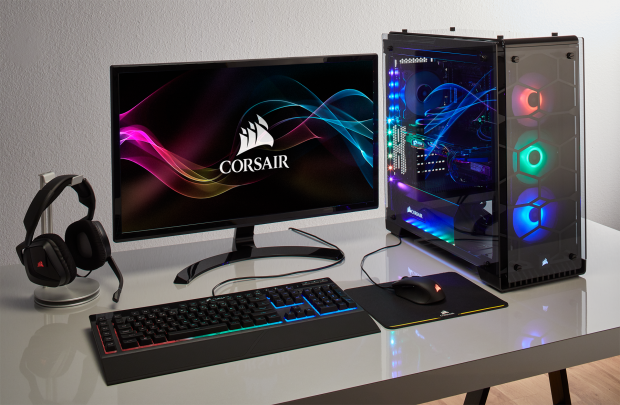 A stunning CORSAIR Crystal Series 570X RGB tempered glass case sets the Crystal Gaming Series' style, boasting three SP120 RGB fans and a set of RGB lighting strips, allowing gamers to choose from a wide variety of lighting patterns for nearly limitless color customization in CORSAIR LINK software. The Crystal Gaming Series also features CORSAIR's industry-leading Hydro Series liquid CPU cooling, with a Hydro Series H60 CPU cooler able to quietly cool the six cores of either an Intel Core i7-8700K or Intel Core i7-7800X, with plenty of room to spare for maximum clock speeds.
The Crystal Gaming Series is powered by a CORSAIR CX650M 80 PLUS Bronze semi-modular PSU, delivering stable, efficient power with the minimum of cables. A wide-range of storage options are available, with the standard models equipped with either a 256GB SATA3 SSD, or an ultra-high performance 512GB M.2 SSD, alongside 2TB, 3TB or 4TB mechanical hard disk drives.
A great gaming PC needs great gaming peripherals and the Crystal Gaming Series includes a set of the best. A CORSAIR K55 RGB keyboard and HARPOON RGB mouse are included as standard, bringing complete RGB lighting customization using CORSAIR Utility Engine (CUE) software. It's easy to program game-changing macros, gorgeous RGB lighting and tune your mouse sensitivity, all directly from your desktop.
Of course, as a PC built by system experts at CYBERPOWERPC, almost every part of the Crystal Gaming Series is user configurable. Need more memory, a bigger CPU cooler or a second graphics card? No problem, just select from a wide range of CPUs, GPUs and CORSAIR components to build your perfect custom system.
"For over two decades CORSAIR and CYBERPOWERPC have been dedicated to providing the highest performance gaming hardware and PCs for enthusiast gamers around the world. This partnership is the culmination of both our efforts and the result is a gaming PC series that will rival all others in price, performance and quality," said CEO Eric Cheung, CEO of CYBERPOWERPC.
"CORSAIR has been providing enthusiasts and gamers with the very best PC hardware for more than 20 years, and we're delighted to partner with CYBERPOWERPC to create something special in the Crystal Gaming Series," said Andy Paul, CEO and founder of CORSAIR. "Boasting the highest performance components, signature CORSAIR quality, and CYBERPOWERPC's fantastic service and support, the Crystal Gaming Series allows customers to experience the very best of both companies."
Availability, Warranty and Pricing
The CYBERPOWERPC Crystal Gaming Series Powered by CORSAIR is available immediately via the CYBERPOWERPC website at https://www.cyberpowerpc.com/page/Corsair-Crystal-Gaming-Series/ and is backed by a limited one year warranty.
For up-to-date pricing, please contact your local CORSAIR sales or PR representative.
Web Pages
For more information on the CYBERPOWERPC Crystal Gaming Series Powered by CORSAIR, please visit:
www.corsair.com/cyberpowerpc-gaming-pc