Colorful Technology Company Limited, professional manufacturer of graphics cards and motherboards, is proud to announce the arrival of its latest high-end motherboard: the iGame Z370 Vulcan X. The iGame series represents COLORFUL's flagship performance and gaming segment and the new generation of Z370 motherboards will be heralded by the new flagship iGame Z370 Vulcan X.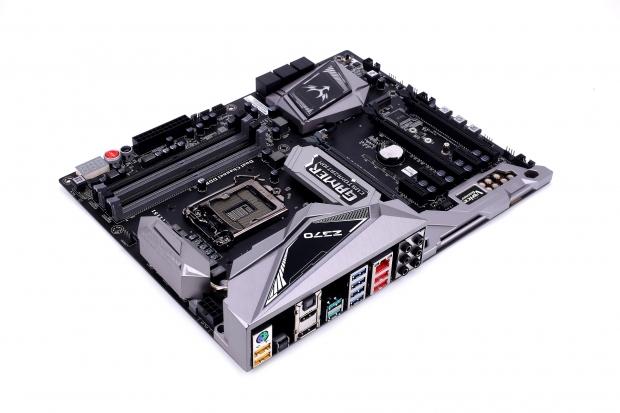 The iGame Z370 Vulcan X will be available October 18th in South Korea.
COLORFUL has made great strides in this new generation of iGame motherboards with the iGame Z370 Vulcan X utilizing a new color theme, going for a black and gray motif with metal textures to give it that striking aesthetic appeal. Improving on the previous generation also is the addition of full RGB lighting on the motherboard. Extended features on various models will also include GamerVoice 2.0 light effect interaction and smart temperature-based lighting.
The iGame Z370 Vulcan X motherboard is equipped with three PCI-Express 3.0 x16 slots that support CrossFire technology for multi-GPU gaming. Expanding on storage performance features, the motherboard is equipped with two M.2 slots and support Intel Optane memory. The motherboard comes with a metal cooling shroud for one of the M.2 slots for optimal performance. M.2 SSDs can deliver excellent performance with the motherboard supporting up to 32Gb/s transfer speeds.
COLORFUL has refined its power supply design on the new iGame Z370 Vulcan X with the exclusive IPP (iGame Pure Power) technology. The new motherboard features a 14-phase VRM all of which are utilizing COLORFUL's IPP technology which effectively reduces ripple and improves operating temperatures versus traditional components. This improves system stability and lengthens service life even under extreme loads for extended periods of usage thanks to the Sanyo tantalum capacitors.
GamerVoice 2.0 delivers great gaming audio with a dedicated sound card chip for the best audio reproduction from COLORFUL. Professional grade audio capacitors and op-amps deliver excellent audio with user-customizable op-amp options. Complimenting these are NICHICON audio capacitors, Faraday shield cover and a customizable LED lighting system all shielded from the rest of the board. The GamerVoice 2.0 audio system on the iGame Z370 Vulcan X can drive up to 600ohm headphones with up to 120dB SNR high-def audio for crystal clear details.
E-Sports peripherals can take advantage of the special Fintek F75503 and Fintek F75501 chips installed onboard dedicated for eSports peripherals to give them the best connectivity on the motherboard. These dedicated eSports ports allow high-speed, low-latency connection for your peripherals for the best responsiveness and smoothness while in gaming.
The iGame Z370 Vulcan X utilizes a debug display monitor that not only displays error codes but also displays motherboard temperature, voltage and other system conditions.
View More News at CyberMedia Press Centre: http://www.cybermedia.com.tw/news