Longsys, a world leader in consumer flash storage, today announced expansion of its DRAM-less SSD product line from Serial ATA (SATA) interface to Non-Volatile Memory Express (NVMe) interface. Boot Partitions, an NVMe revision 1.3 feature, integrates BIOS/UEFI system inside an SSD and gives the host an option to simplify system design without SPI Flash. Host Memory Buffer (HMB) feature enables DRAM-less SSDs to use host memory and achieves performance comparable to SSD designs with embedded DRAM but at much lower cost and power consumption. Powered by Marvell's 88NV1160 SSD controller, the Longsys P900 marks the industry's first SSD that supports small 11.5mmX13mm BGA SSD with HMB. Furthermore Longsys is collaborating with other leaders in the ecosystem to accelerate the adoption of HMB-enabled SSDs for a new generation of low power, small form factor mobile computing systems.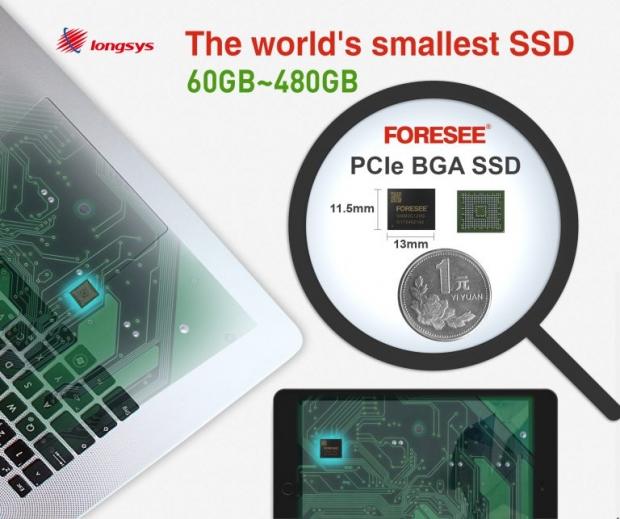 Longsys delivers the P900, the industry's first 11.5x13mm NVMe BGA SSD that supports the Boot Partitions function and the Host Memory Buffer feature to enable a new generation of high performance, cost effective mobile storage
"As the world's leading Mini SDP SATA DRAM-less SSD module provider, Longsys has once again made a unique contribution to the storage industry by pioneering the integration of Marvell's DRAM-less SSD controller 88NV1160 and the new 64-layer 3D NAND into a 11.5mmX13mm BGA package," said Zhixiong Li, Chief Technology Officer of Shenzhen Longsys Electronics Limited. "Longsys' new P900 SSD takes advantage of the leading DRAM-less NVMe design from Marvell along with the high-density 64-layer 3D NAND, which greatly enhances system memory utilization, reduces total system cost, lowers power consumption and provides consumers with a new class of mobile computing devices. I am very pleased with our ongoing collaboration with leading ecosystem partners and look forward to the fast adoption of BGA SSD in the broad consumer market."
"Longsys and Marvell have a shared vision of enabling a new generation of low power, small form factor mobile computing solutions for mass market adoption through our pioneering efforts to build out the integration of Host Memory Buffer technology into DRAM-less products," said Nigel Alvares, Marvell's VP of SSD & Enterprise Storage Marketing, Storage Business Group. "Longsys' announcement today is a significant milestone in accelerating ecosystem innovation by integrating Marvell's industry-leading SSD controller technology to deliver compelling performance and storage capacity in the industry's smallest BGA SSD form factor solution."
Longsys' P900 is the world's first 11.5mmX13mm NVMe BGA SSD for mass market mobile computing solutions. The SSD is powered by Marvell's 88NV1160 DRAM-less controller which integrates Marvell's industry-leading NANDEdgeâ"Ã,¢ low-density parity check (LDPC) error-correction technology supporting triple-level cell (TLC) and 3D NAND. The Longsys P900 BGA SSD enables small form factor SSD solutions with unparalleled performance for integration into low-z-height tablets, Chromebooks, new 2-in-1 hybrid/detachable mobile PC platforms, virtual reality (VR) and automotive applications, and supports PCIe 3.0X2 and the new NVMe HMB feature. By leveraging memory allocated from the host system, the Longsys P900 BGA SSD is able to scale up performance without limitations of conventional DRAM-less architectures. The P900 series can support Boot Partitions, which is equivalent to integrating BIOS/UEFI system inside SSD with no need of SPI Flash to simplify system design.
The P900 SSD series will be available in 480GB, 240GB, 120GB and 60GB. Longsys will provide samples to customers in Q4 2017 and ship to major customers in Q1 2018. Longsys will be showcasing its BGA SSD P900 and other cutting-edge storage solutions at Flash Memory Summit in Longsys' booth #800, HALLS A-B at the Santa Clara Convention Center, California on Aug 8-10, 2017.
Last updated: Sep 1, 2017 at 12:58 am CDT