ASUS today announced DSL-AC88U, an ultra-fast AC3100 dual-band Wi-Fi modem router that supports the latest high-speed G.fast DSL standard as well as all existing ADSL, ADSL2/2+ and VDSL2 standards.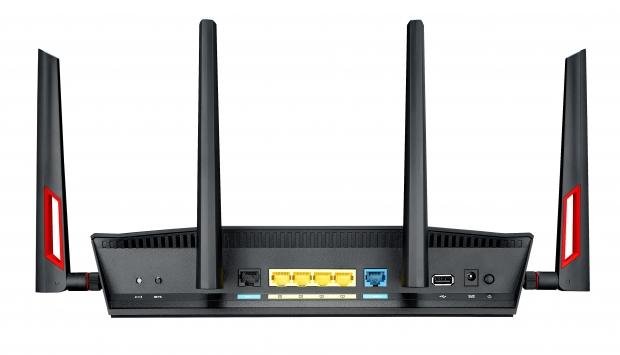 DSL-AC88U is our fastest ever modem router, featuring cutting-edge Broadcom NitroQAM technology that delivers 1.25X-faster Wi-Fi speeds than standard four-stream (4x4) routers. This enables data rates of up to 2167Mbps on the 5GHz band and 1000Mbps on the 2.4GHz band - or a combined concurrent bandwidth of up to 3167Mbps.
Powerful and flexible AC3100-class Wi-Fi modem router offers future-proof support for latest G.fast DSL and compatibility with all existing ADSL/VDSL standards
KEY POINTS
Optimized for bandwidth-intensive tasks with NitroQAM (1024-QAM) technology for dual-band Wi-Fi speeds up to a combined 3167Mbps.

Maximum broadband compatibility, with support for the latest G.fast standard, existing ADSL, ADSL 2/2+ and VDSL2 standards, and Ethernet WAN

Enables easy, family-friendly monitoring and filtering of internet activity
DSL-AC88U has family-friendly parental controls that allow users to monitor and filter internet activity, which can help to protect the online safety of younger family members.
In addition to its wide compatibility with G.fast and existing DSL broadband services, DSL-AC88U can also connect to the internet via an Ethernet connection, such as those provided by fiber- or cable-modem-based ISPs. These outstanding connectivity options make DSL-AC88U a supremely flexible and future-proof choice for any home user.
NitroQAM: Our fastest ever modem router
ASUS DSL-AC88U uses a Broadcom NitroQAM (1024-QAM) technology to boost maximum Wi-Fi speeds on both the 5GHz and 2.4GHz frequency bands by up to 25% compared to other four-stream (4x4) MIMO designs[1]. With NitroQAM, 5GHz speeds can be improved from 1734Mbps to 2167Mbps, and at 2.4GHz speeds are boosted from 800Mbps to 1000Mbps. This gives DSL-AC88U a combined total bandwidth of up to 3167Mbps for lag-free, low-latency online gaming, smooth streaming of 4K UHD movies and blindingly-fast file-sharing.
Ultra-fast and ultra-flexible: G.fast support and maximum DSL compatibility
ASUS DSL-AC88U supports the very latest G.fast DSL protocol, a cutting-edge technology that enables broadband speeds up to 18 times (18X) faster than VDSL2, or 4.5X faster than Vplus (35b) technology. Future-proofing the for NBN FTTC (Fiber to the Curb) service in 2018.
For full compatibility with existing DSL connections, DSL-AC88U also supports ADSL, ADSL2/2+ and VDSL2 services. It also supports Ethernet-based internet (WAN) connections, so it can be easily connected to an existing fiber- or cable-modem service. This superb flexibility gives users the peace of mind that DSL-AC88U will give them future-proof support for any ISP upgrades.
Family friendly: Easy-to-use parental controls
To help protect younger family members from inappropriate websites and limit their internet access, ASUS DSL-AC88U features powerful yet easy-to-use parental controls, including filters that can block access to specified websites or apps. A scheduling feature allows parents to restrict the amount of time a device can access the internet. With DSL-AC88U, parents can easily create a healthier and safer network environment for their family members.
AVAILABILITY & PRICING
ASUS DSL-AC88U will be available from 11th September in Australia at the launching price of AUD$549.00.
Last updated: Sep 1, 2017 at 12:58 am CDT