ADATA Technology, a leading manufacturer of highperformance DRAM modules and NAND Flash products, is pleased to confirm participation in Flash Memory Summit 2017, one of the most important memory and storage trade shows worldwide. The event is scheduled for August 8-10, taking place in the Santa Clara Convention Center. ADATA will focus on industrial-grade DRAM and SSDs, in particular the growing PCI Express segment. ADATA will also exhibit industrial DDR4 as well as SATA SSDs in up to 8TB capacity and drives that use the new U.2 form factor.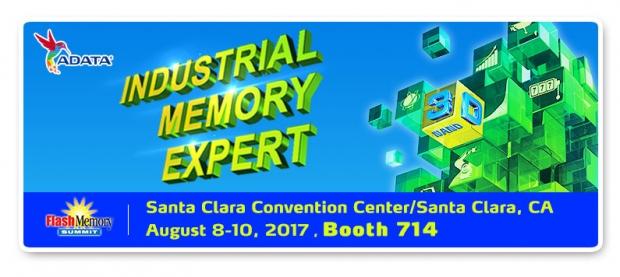 From industrial DDR4 to growing selection of big capacity, new form factor SSDs
PCI Express on the rise
Current industry estimates show that PCI Express will surpass SATA as the interface of choice for SSDs by 2020. Constantly evolving, PCI Express offers much bigger bandwidth than SATA, with lower latency, no cables to manage, and reduced power draw. Even now, PCI Express 3x4 drives with the NVMe 1.2 protocol delivers up to 3000MB/s read and 1500MB/s write, as shown by the IM2P33E8 industrial SSD. Those speeds are five and three times faster than SATA read/write, respectively. Such exponential growth in performance caters to high demand applications, from VR and graphics rendering to Internet of Things and data centers. Ready for this trend, ADATA has developed a rich portfolio of PCI Express-based SSDs.
All-new capacity milestones
The summit will allow ADATA an opportunity to display the ISSS381 industrial SSD, a SATA model range with capacities from 1TB to a remarkable 8TB. This will be the biggest capacity of any SSD ADATA produced commercially to date, giving businesses and enterprises access to more high speed, durable storage than ever.
U.2: the next small form factor for enterprise users
ADATA will unveil its IU2P338 industrial-grade SSD at Flash Summit 2017. With its U.2 connector and small footprint, the drive is designed for space-constrained enterprise applications. The U.2 plug is expected to become more popular in the near future, while maintaining compatibility with M.2 through adapters.
Industrial DDR4 goes fast
ADATA has worked hard to perfect durable DDR4 2666MHz modules that meet the strictest operational requirements while maintaining utmost stability. Until now, industrial-grade DDR4 has been scarce and when available limited to low speeds (max 2133MHz). The added performance offered by 2666MHz modules can benefit many users.
Please visit ADATA at Flash Memory Summit 2017, Santa Clara Convention Center, booth 714
More show info can be found at www.flashmemorysummit.com
About ADATA
ADATA Technology, one of the world's largest vendors of DRAM modules and USB flash drives, provides complete solutions, including memory cards, solid state drives, and portable hard drivesfor consumers and industrial users. ADATA products also include on the go power for mobile devices and the company is now a major provider of advanced LED lighting. ADATA products continue to garner international acclaim from organizations such as iF Design Awards (Germany), red dot Awards, CES Best of Innovations Awards, Good Design Awards (Japan), Best Choice of Computex Awards, and Taiwan Excellence Gold Awards. The company's slogan of Love, Life, Dreams embodies the ADATA brand and the role of innovative memory products in the human pursuit of universally-cherished ideas. For more information, please visit www.adata.com.
Last updated: Sep 1, 2017 at 12:58 am CDT