Built to support PCIe Gen 3 x4 with 2500/1350MB/s read and write speeds, Apacer's PT920 COMMANDO SSD, as the name suggests, will make each gaming move precise and powerful. It operates at a random write of 175,000 IOPs to ensure gamers always stays one step ahead of the opponent.
Master the Decisive Moments & Succeed In All Attacks at 2500/1350MB Speed on PCIe Gen 3x4
Gear up! To claim your title in the gaming battlefield, you will need the toughest SSD at the core of your system to control every move with power, swiftness and precision! The design of Apacer's PT920 COMMANDO takes inspiration from an assault rifle. Shaped to mimic the powerful weapon, the distinguished cooling system allows excellent heat dissipation. The unit is structured to multitask during intensive operation, with technological advancements to ensure stability and extended lifespan. Complete with a 3-year warranty from Apacer, PT920 COMMANDO will elevate your gaming experience and ensure every strike is forceful.
The Armory of Rapid and Fluid Actions
Available in 240GB and 480GB, PT920 supports the latest PCI Express Gen 3 x4 lanes and is in compliance with NVMe 1.2 standard, operating at a bandwidth of quadrupled efficiency. Built with Apacer's unique technology and quality MLC, the 480GB model can reach up to an impressive 2500MB/s read and 1300MB/s write, as well as 175,000 IOPs, to make every intensive gaming moment fluid and sharp.
PT920 COMMANDO comes with multiple advanced SSD technologies to provide flawless performances. For accuracy and safety of data read and write, PT920 is equipped with 120bit/2KB ECC, End-to-End Data Protection, Smart ECCâ"Ã,¢, and SmartRefresh. The S.M.A.R.T. monitoring system and Global Wear Leveling keep the operation at its optimum. What's more, PT920 has advantages like low power consumption and strong capability to cope with intensive workloads, making it an ideal component to any professional high speed computing system.
Victory Starts From Within
PT920 COMMANDO' s shape of an assault rifle literally takes the meaning of gaming to a deeper level : the spirit must start from the very core, from the very inside of your computer. The grip of the rifle is actually a thoughtfully designed cooling system, while the rest of the piece is finely built with details like sight aperture and ejection port.
In addition to the convection dynamics that keeps the unit running with an excellent heat dissipation, there is a 3-year warranty, along with protective technologies that will extend the lifespan. Ready to claim your field? Unleash your power with PT920 COMMANDO SSD!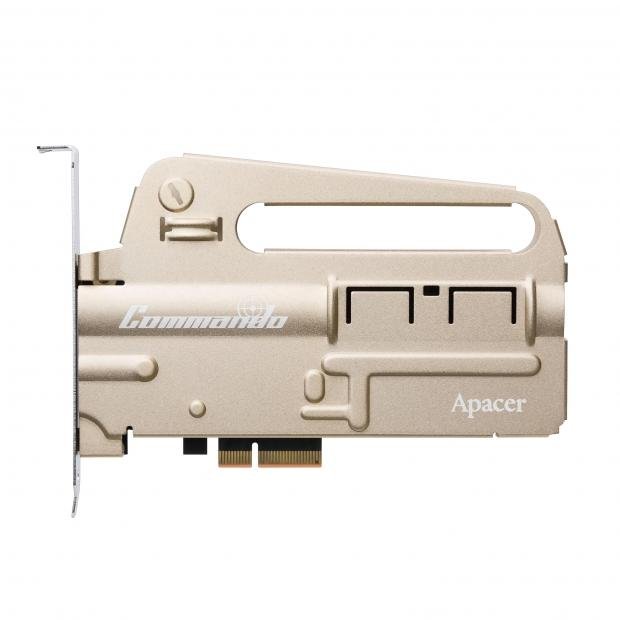 Last updated: Sep 1, 2017 at 12:58 am CDT