ADATA Technology, a leading manufacturer of highperformance DRAM modules, NAND Flash products, and mobile accessories today launched the HD710 Pro durable external hard drive alongside an addition to the best-selling HD650 range. The HD710 Pro improves on its HD710 predecessor by exceeding IP68 dust and water proofing plus military-grade shock resistance. It enhances the safeguarding of stored data against accidents, damage, and the rigors of active lifestyles, and is available in four colors. The HD710 Pro offers up to 4TB capacity. The refreshed HD650 arrives in a stylish light blue over black color scheme, also providing 4TB capacity - a new milestone for unpowered USB external hard drives. Together, these two new USB 3.1 models bolster the ADATA external hard drive portfolio, giving consumers more choice.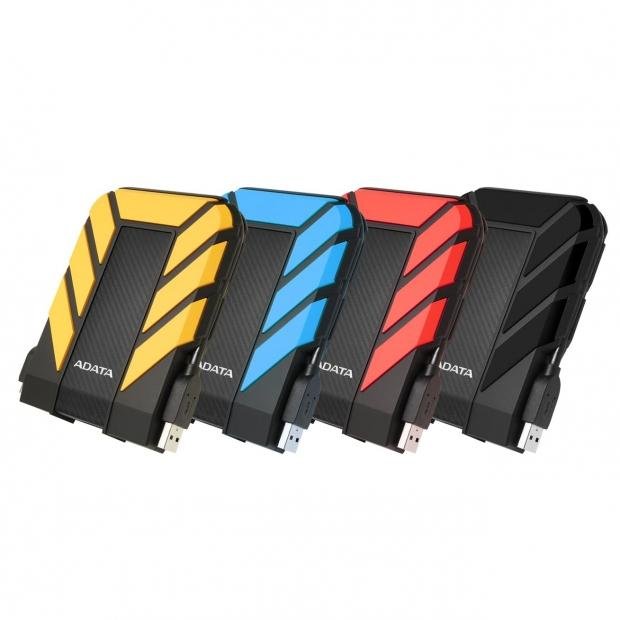 More options for durable, great value, and widely compatible storage expansion
HD710 Pro: more durable and bigger than before
The original HD710 proved quite successful for ADATA on Windows, Linux, and Mac OS. The HD710 Pro improves on it with enhanced dust and water proofing that boosts its durability for use in harsh environments and the outdoors. It exceeds IEC IP68 requirements, being completely dust-tight and able to withstand up to 60-minute submersion in 2 meters of water. It also meets and passes MIL-STD 810G 516.6 requirements, surviving shocks and impacts associated with drops from up to 1.5 meters. The HD710 Pro uses a custom triple-layered protective build and implements G-Shock sensor technology that stops and restarts drive activity when shocks or vibrations are detected to prevent data corruption. The drive features an ergonomic USB port cover for effortless open/close, and a useful wraparound groove for storing its USB cable. Red, yellow, and blue variants are available in 1TB/2TB, while the black version goes up to 3TB/4TB.
HD650: new shade of a proven classic in all-new 4TB
Like the HD710 Pro, the HD650 also uses tough triple-layered construction to protect stored data, and features the same G-Shock sensor technology. The refreshed HD650 ships in a light blue over black color scheme and most importantly offers consumers up to 4TB capacity, double the 2TB maximum on previously-released HD650 drives. This capacity was traditionally only possible on bulky external drives that required a dedicated power supply, and so the updated HD650 is a major step in offering users efficiency, good value, and increased storage expansion through widely-compatible USB 3.1.
Last updated: Sep 1, 2017 at 12:58 am CDT