GIGABYTE TECHNOLOGY Co. Ltd, a leading manufacturer of motherboards and graphics cards, unveiled at Computex 2017 their latest motherboard series built on the Intel X299 enthusiast platform. Marked with the AORUS brand the new X299 AORUS Gaming Motherboards are here to exceed expectations, this is apparent just by glancing at the aggressive exterior of these new motherboards. Not only are there physical improvements but software enhancements are also included with the X299 platform. Partnering with WTFast, users can now experience the benefits of having optimized connections while gaming with AORUS Gaming Motherboards. Hardware improvements over its predecessor include ESS Sabre audio and Asmedia ASM3142 USB 3.1, to exclusive features such as RGB Fusion with Digital LEDs, Smart Fan 5 with Fan Stop, and M.2 support. With all these enhancements the new X299 AORUS Gaming Series is ready for the future.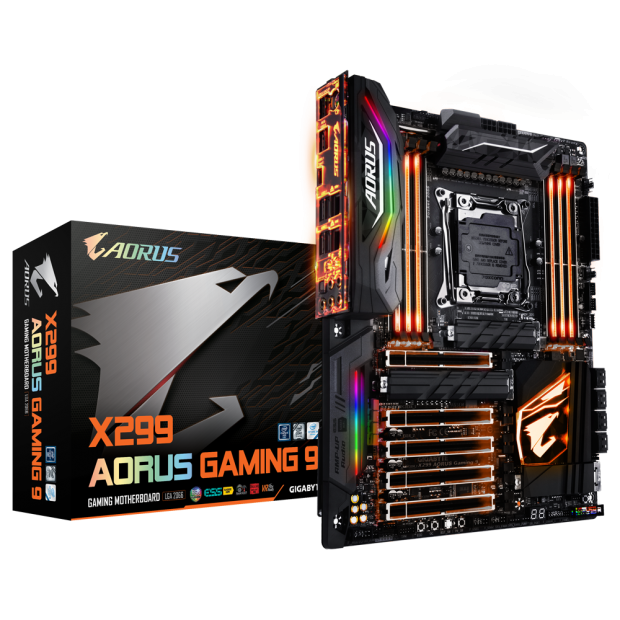 New X299 AORUS Gaming Series - Exceed Expectations
Redesigned Armor and Plating
When users first set eyes on the X299 AORUS Gaming Series its evident that this board comes from a gaming pedigree. From its black armor with accents to its black PCB and baseplate, the X299 AORUS Motherboards show that it means business. Focused on giving users a strong foundation for their Gaming PC, the base plate offers additional structural support to reduce the strain from heavier graphics cards, larger coolers, and even memory modules. The armor and plating combine to help support any enthusiast build while reducing cuts and stings from installation.
WTFast Gamers Private Network - GPN
Partnered with WTFast, AORUS Gaming Motherboards leverage the WTFast Gamers Private Network - GPN, which can optimize and improve connections from a gamer's home PC to the game server and back again, no matter where they are in the world. X299 AORUS Gaming motherboards are known to be high-performance gaming motherboards and with a monthly WTFast subscription, gamers can experience the most stable and fastest gaming connection possible. "Gamers can expect to see upwards of a 60% overall connection improvement, including reduced ping and a much smoother connection," said Rob Bartlett, CEO WTFast.
RGB Fusion with Digital LEDs
Fashioned with RGB Fusion and onboard digital LEDs, the new X299 AORUS Gaming 9 and X299 AORUS Gaming 7 motherboards emblazon any chassis its placed in. Digital LEDs make new patterns and styles possible using the flexible digital LED strips or digital LEDs onboard, as each LED can now be individually addressed. With the introduction of digital LEDs RGB Fusion will introduce up to 8 new patterns for users to enjoy. To ensure that compatibility is never an issue the Digital LED Pin Headers on the AORUS Gaming motherboards support both 5v and 12v Digital LED strips, giving users the option to choose the LEDs of their liking.
Smart Fan 5 with Fan Stop Technology
Enriched with new features in the Smart Fan 5 software suite, the X299 AORUS Gaming Series offers Fan Stop Technology and even more enhancements for liquid cooling support. Fan stop technology reduces unnecessary wear on fans when the system is below a specific temperature, stopping all fans until they are needed. With improved control and up-to-the-second information on flow-rate and water-temperature through the Hybrid Fan Pin Headers, the new Smart Fan 5 offers users complete mastery over their PC. To ensure the ultimate liquid cooling experience, high-current 3 amperage pin header has been added to power the most demanding water pumps available for PC cooling.
M.2 Thermal Guard + Intel Optane Support
With a high-end platform that is already so feature-filled triple M.2 support is a rarity. AORUS Gaming Motherboards are focused on delivering this technology to enthusiasts who want to maximize their system's potential. Intel's X299 platform is the first enthusiast platform that will support Intel's latest Optane Technology. Optane fuels storage performance by acting as a cache drive, giving users a significant boost compared to traditional mechanical drives.
With performance users are always troubled with the concern for heat. GIGABYTE provides a solution to this problem with its M.2 Thermal Guard. The M.2 Thermal Guard prevents throttling and bottlenecks from M.2 devices as it helps to dissipate and reduce heat before it becomes an issue.
A High-Fidelity Audio Experience
Studio-class audio begins with studio-class components and that is what is included on the latest X299 AORUS Gaming Series Motherboards. AORUS Motherboards are paired with an ESS Sabre DAC, capable of 127dB, which can be found in professional grade equipment. Users can experience unprecedented dynamic range and ultra-low distortion that has yet to be seen on any motherboard.
"With the unveiling of Intel's new X299 platform we are determined to show the PC industry our revolutionizing features," said Henry Kao, Vice President of GIGABYTE's Motherboard Business Unit. "GIGABYTE's X299 AORUS Motherboards is here to leave a lasting impression for enthusiasts searching for the ultimate PC experience."
The X299 AORUS Gaming Series will support X-Series processors and information about each individual board can be found on AORUS website. These boards will be available for purchase to the general public in June 2017.
Last updated: Sep 1, 2017 at 12:58 am CDT