Transcend Information Inc., a leading manufacturer of storage and multimedia products, is proud to introduce the SSD430, an industrial-grade solid state drive. Compatible with SATA III 6Gb/s specifications, the SSD430 delivers impressive transfer speeds of up to 560MB/s read and 490MB/s write. In addition to blazing speed, Transcend's SSD430 features excellent reliability and comes in a small, stylish case. The drive is loaded with low-density parity check (LDPC) error-correction code (ECC) and advanced protective technologies, making it an excellent choice for industrial needs.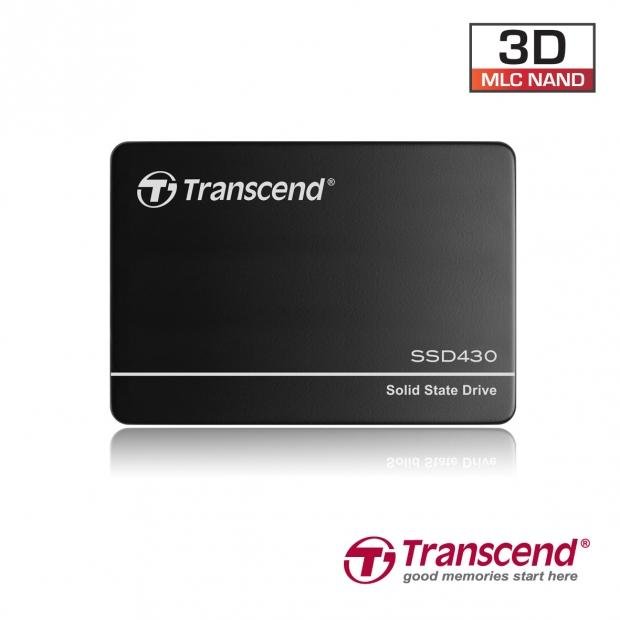 Top-quality 3D MLC NAND chips translate into greater transfer efficiency
The industrial-grade SSD430 solid state drive is constructed of 3D MLC NAND flash chips. 3D engineering has increased SSD430's speeds to an incredible sequential 560MB/s read and 490MB/s write; the random transfer efficiency is also boosted to 310MB/s read and 350MB/s write. Low power consumption and high reliability are also hallmarks of 3D NAND. Transcend's SSD430 is manufactured for a long-term, stable operation for various types of data and application, and is suited for industrial PCs, automated machinery, and fanless industrial systems.
Improved ECC ensures data reliability
Transcend's SSD430 solid state drive is equipped with a DDR3 DRAM cache and a SLC cache to boost read and write speeds. The SSD430 also comes equipped with advanced LDPC ECC to secure data. In addition, the drive features Device Sleep mode, Power Shield, Intelligent Block Management, and Global Wear Leveling, all designed to enhance device endurance and reliability.
SSD Scope Pro
Available for customization, Transcend's proprietary SSD Scope Pro software package is an easy-to-use software that monitors industrial-grade SSD health and helps it run more efficiently over the long term. Tools include drive information and S.M.A.R.T. status monitoring, diagnostic scan, secure erase, health indication, system clone, and remote monitoring.
Pricing and Warranty
Transcend's SSD430 solid state drive is available in 120GB ($89) and 240GB ($159) capacities, and is covered by Transcend's three-year limited warranty.
Last updated: Sep 1, 2017 at 12:58 am CDT