SAPPHIRE Technology has announced a new family of products in its consumer graphics cards business - SAPPHIRE Pulse. Focusing on what matters most for PC gamers, Pulse is a combination of performance, durability and great value. Factory overclocked, efficient cooling and stylish design are the signature of this new series. Today's announcement coincides with the launch of SAPPHIRE Pulse Radeon RX 550, a modern cost- and energy-efficient ITX card.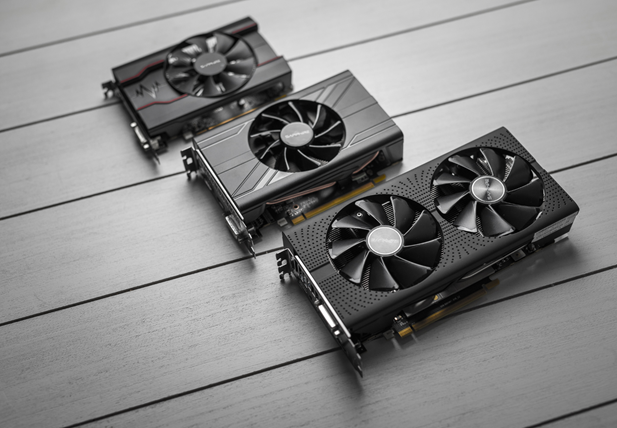 Superb value and quality for PC gamers in an all-new lineup
Key features:
PULSE cards come with the performance parts you need for an excellent gaming experience at a price you can afford

RX 580: 1440p gaming @ 60 FPS, Dual-X cooling with Quick Connect feature for easy fan swap

RX 570: 1080p gaming @ 60 FPS, Dual-X cooling with Quick Connect feature for easy fan swap

RX 570 ITX: Gaming on small-form-factor PCs

All-new RX 550: Entry-level powered by modern Polaris GPU

Strategic partnership with AS Rock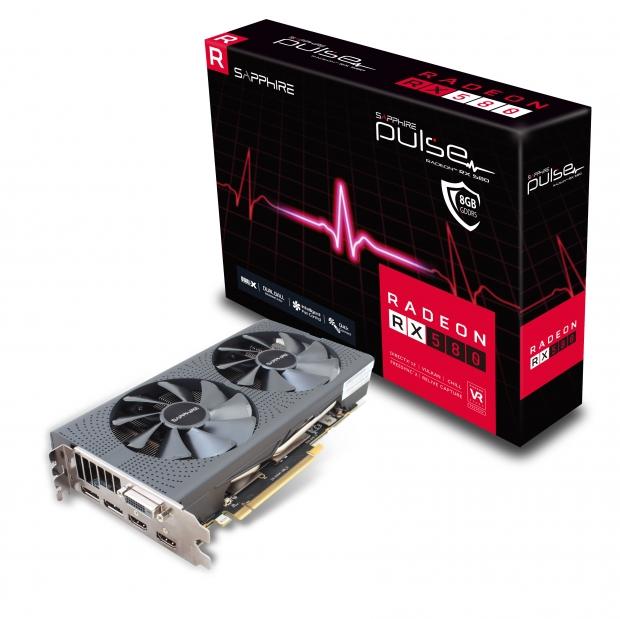 RX 580: The beating heart of a gamer's PC
SAPPHIRE Pulse is all about providing PC users with choice and great value for money. Starting with the SAPPHIRE Pulse Radeon RX 580, this factory-overclocked model is dedicated to customers who seek a powerful, future-proof card that plays modern titles at maximum fidelity in 1440p @ 60 FPS. The card features a Polaris GPU with 2304 4th generation of Graphics Core Next stream processors, boost-clocked at 1366MHz, and 8 GB of VRAM (also available in a 4GB version). The industry proven SAPPHIRE Dual-X system serves as the cooling solution, with dual ball-bearing fans and the SAPPHIRE Quick Connect feature for easy cleaning and replacement.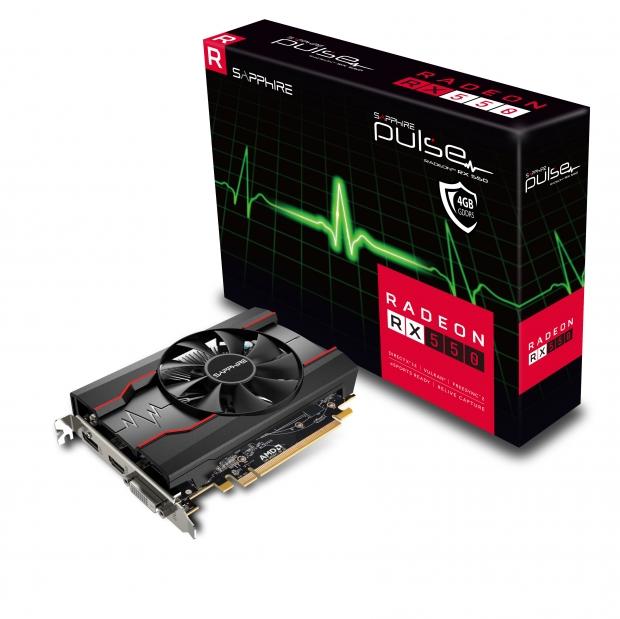 RX 570: Pulse of gaming in standard and small-form-factors
For gamers on a slightly smaller budget, the SAPPHIRE Pulse Radeon RX 570 is the card to pick for smooth 1080p gaming in high details @ 60 FPS. This model is powered by 2048 GCN stream processors that run at a 1284MHz boost clock. The card is cooled using the quiet Dual-X two-fan solution, with an easy fan swap Quick Connect system in place as well.
The SAPPHIRE Pulse Radeon RX 570 also comes in the ITX format for users who want to power their HTPC or small-form-factor gaming PCs. Boost-clocked at 1244MHz and using only a single 6-pin power connector as well as single fan for cooling, the SAPPHIRE Pulse Radeon RX 570 ITX is a showcase of Polaris' power efficiency.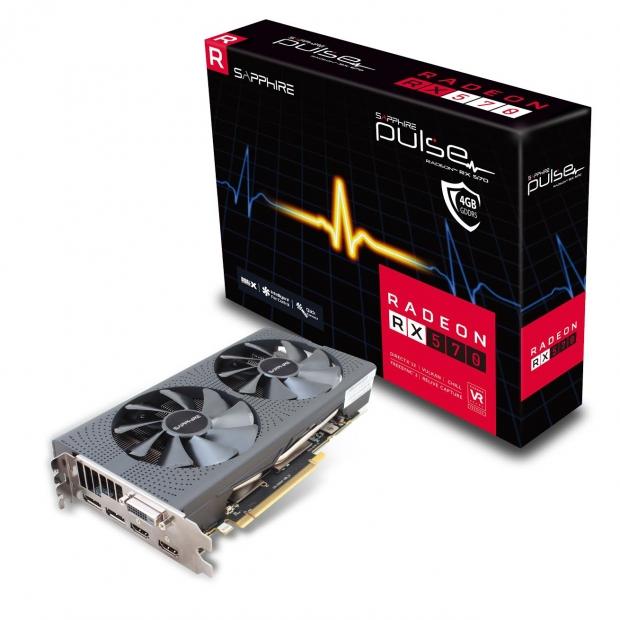 RX 550: Pumping new blood in entry-level
Lastly, debuting today is the SAPPHIRE Pulse Radeon RX 550 - a low-tier model perfect for online games like League of Legends, Overwatch, Rocket League or Counter Strike: Global Offensive. Based on a modern Polaris architecture and sporting 512 GCN stream processors boost-clocked at 1206MHz, the RX 550 is up to 5x faster than an Intel Integrated Graphics (HD 530) and up to 2x faster than the previous generation Radeon R7 250 card. The modern GPU also means better support for the latest display and video technologies, such as DirectX 12, FreeSync or H.265 4K encoding. The card is available with 4 GB and 2 GB memory variants. With a TDP of only 75W, a single quiet fan is used for cooling.
Quality components & technology
All SAPPHIRE Pulse graphics cards come equipped with a slew of modern technologies and durable components that ensure a long and stable life. Long-life capacitors and fuse protection are applied across the entire lineup. For improved semi-passive cooling, each card also supports SAPPHIRE Intelligent Fan Control III that will turn off fans completely at light load.
In addition, the SAPPHIRE Pulse Radeon RX 580 and 570 cards also feature the latest SAPPHIRE Black Diamond Chokes 4 to minimize the coil whine. They also come with a solid and stylish aluminum backplate.

Strategic partnership with ASRock
PC gamers across the globe expect an optimal balance between performance and price when choosing their equipment. Both ASRock and SAPPHIRE have a proven track record in delivering award winning products that gamers' truly need.
"Our mission is to provide an outstanding user experience to all of our customers," said Adrian Thompson, VP Global Marketing, SAPPHIRE. "This partnership with our colleagues at ASRock will strengthen our ability to deliver the fast and exciting products our customers deserve."
To strengthen the demand for our superb product portfolios, ASRock and SAPPHIRE are announcing a strategic technology partnership that will focus on the performance and features that gamers deserve. Both companies will work together to launch cutting edge motherboard, CPU, and VGA card configurations that respond to market demand, whilst at the same time delivering superb price/ performance value.
"ASRock is focused on delivering innovatively designed motherboards with extreme performance to our customers," said James Lee, Vice President, Sales and Marketing Division, ASRock."Our partnership with SAPPHIRE will offer customers a convenient solution to increase the PC's performance."
Availability
SAPPHIRE Pulse graphics cards - Radeon RX 580, RX 570, RX 570 Mini and RX 550 - are all shipping now, and will be available from selected SAPPHIRE e-tailers and retailers worldwide.
Specifications: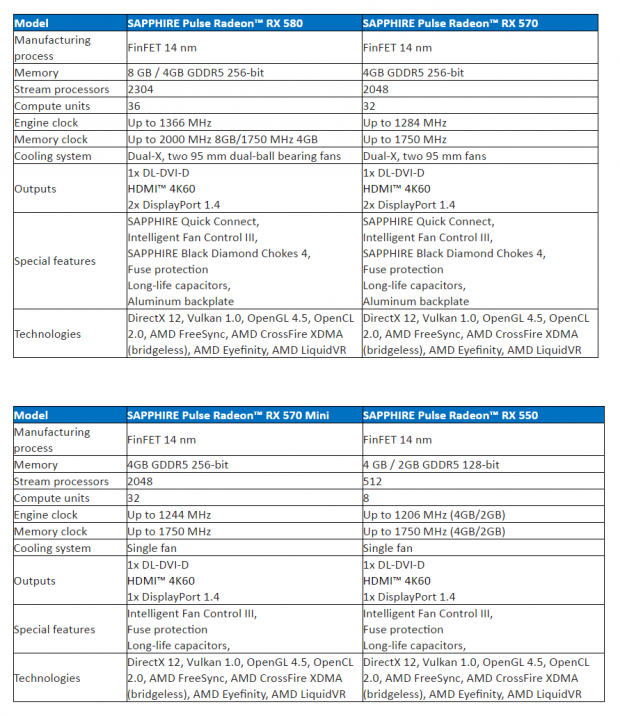 Last updated: Sep 1, 2017 at 12:58 am CDT